A scary adventure in Transylvania:
Sighișoara, the city of Dracula
Shaking legs, cold sweats, goosebumps and wide eyes.
This was kind of what happened during our road trip through Eastern Europe. We decided to visit Sighișoara, a small town in the Transylvania region of Romania. According to History, Vlad III was born there. He's also known as Count Dracula, who later gave rise to countless fictional stories.
Psst psst…but after all, which secrets did we discover through Romania lands?
We'll tell you everything in this creepy article!
For those who believe in bad omens, you can say that arriving in this sunny small town in Romania, about 300 kilometres north of Bucharest and suddenly starting to rain, is a bad one.
But for us, open atheists halfway in a road trip through Eastern Europe, it was just a big annoyance as we had to change our plans due to bad weather.
Sighișoara, a place of medieval tails
We arrived in Sighișoara by mid-afternoon and were surrendered to that town; although small, the main square exuded life in every corner! There in Transylvania, in Romania, a new adventure was about to start!
We quickly realized that that place was not limited to Count Dracula stories and legends, which gave rise to the character of the well-known Bram Stoker tale. There, in the central square, each building was painted in a different colour and the sunlight beams on each of them created an even more interesting colour dynamic!
Despite being cared for, that medieval city in Romania seemed to have stopped in time. The alleys were very narrow! If we closed our eyes, we could almost imagine smells and people from other times. At the time of our visit, terraces filled a great part of the place in the old town. It was not very crowded with tourists and offered several places to sit and enjoy everything around us.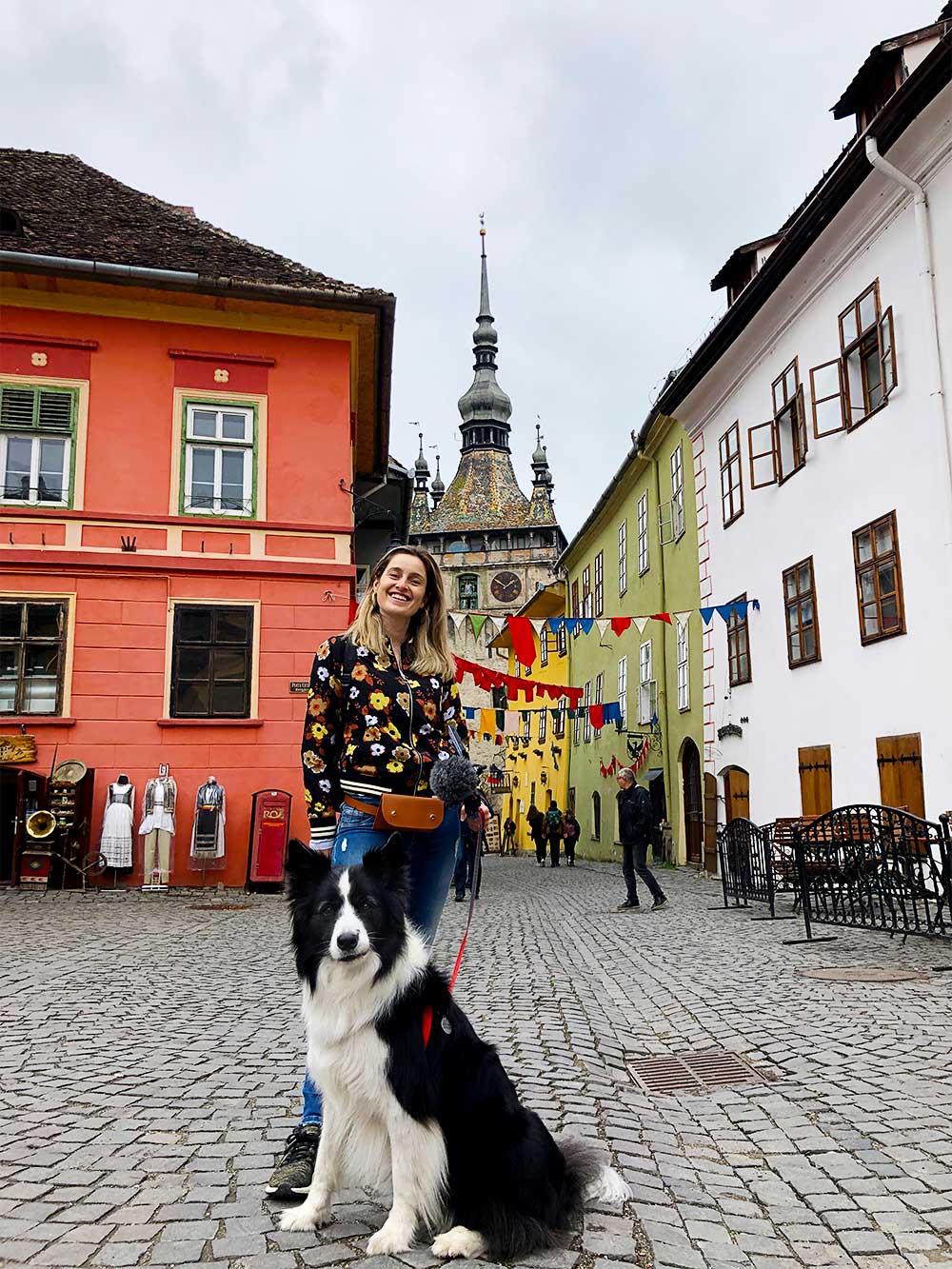 The most desired place to visit in Sighisoara
We walked along one of the streets of the main square to the mythical covered staircase. It would take us to the top of the hill. There, we would find the school, the church… and the cemetery.
Yes, we went to Romania to visit a cemetery, but it's not just any cemetery.
Some graves are so old that they must know all about Vlad III or Vlad Drakul, better known as The Impaler. This Romanian count of the Order of the Dragon (Drakul) reigned between 1456 and 1462. He used the impalement technique to torture his enemies and, thus, to prevent further Turkish and Hungarian invasions.
It is a long and bloody story that gave rise to the most varied legends. But the truth is that maybe Vlad III wanders there, in the creepy cemetery of Sighișoara.
After it had been raining for a long time, we worked up the nerve to climb those 200 steps of the covered stairs. That dark wooden roof and the dampness inside the tunnel made the scene even more frightening. But what scared us the most was to realize that we were out of breath after those 200 steps! Only Rafa was ok to do it all over again! 🙂
High above, among the cypresses, crows sang and flocked over the cemetery, as if to warn of our arrival. Step by step, we went along those corridors, already crossed by undergrowth. Surprisingly, although there were quite old graves, there were also recent graves from a few years ago. It seemed quite strange to us, given the lack of preservation and sloppiness of the place.
Suddenly, we heard the gate creak and felt a chill up our spine so that, after the visit, we left at a hasty pace!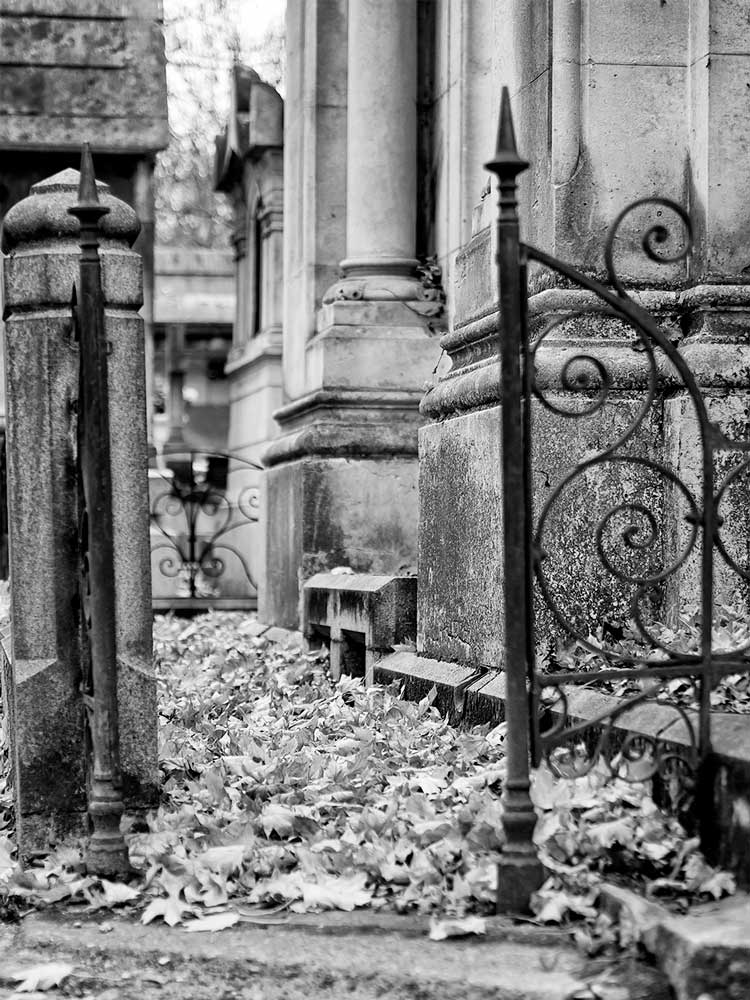 A little superstitious
Still influenced by that creepy atmosphere and a little hungry already, we decided to have dinner at Casa Vlad Dracul Restaurant! Nothing but the place where Vlad III was born. In the meantime, it was turned into a restaurant. It's pretty original!
But as we are passionate about sunsets, we get lost in time enjoying the view from the top of that cemetery. A perfect painting from Romania! But unfortunately when we arrived at the restaurant, it was already closed.
So we opted for another place for dinner, the Restaurant Hotel Sighisoara, where we tried the typical soups…while listening to the sound of the outside thunderstorm!
As if that wasn't enough, we quickly realized that there were too many coincidences when we arrived at Fronius Boutique Residence hotel. Our room was number 13! Should we be concerned?
Not at all, because we love the hotel; a vintage place with high vaulted ceilings and wooden furniture. It was perfect to get into the medieval (and legendary) spirit of the town, classified as UNESCO's World Heritage!
The Count's house
The next morning, we visited Vlad III (or Vlad Țepeș) house. A three-floor yellow house where medieval restaurant Casa Vlad Dracul is located as well. It's said that Count Vlad III and his father, Vlad II, lived there. We don't know if it's true, but the atmosphere is kind of weird inside there!
Armours, busts, paintings, furniture and personal objects are some of the things we could see. In a candlelit room, there is also a coffin with a deceased inside…
Well, actually this deceased is just an actor playing Count Dracula. And he did his part well to create a more tense and dramatic atmosphere and to scare us. Even Rafita was scared! 🙂
Being there and seeing all those scenarios, paced by the creaking of the floor, it was impossible not to remember everything we had read about Vlad Țepeș and the tortures he carried out to ward off his enemies! Is he still wandering around the house?
We don't know, but it's better not to think about it!
Another creepy visit. It costs 10 lei (about €2) per person!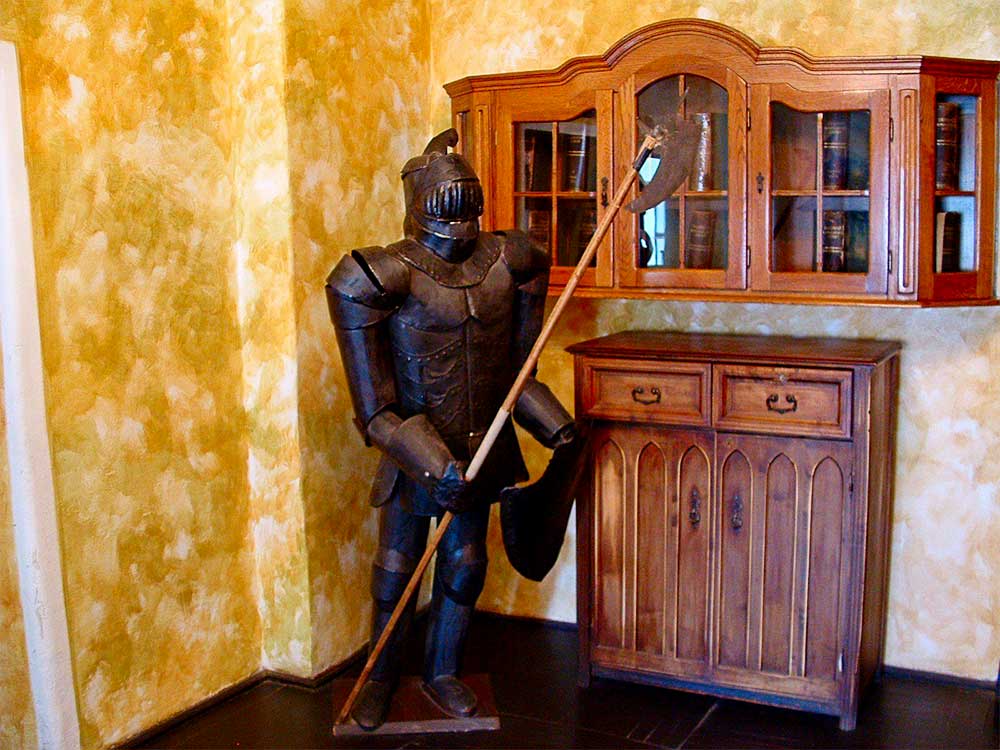 The Clock Tower of Sighisoara
After several attempts since the day we arrived in Sighisoara (due to the schedule or bad weather), we finally managed to visit the mythical Clock Tower.
We entered and began to walk up the stairs that would take us to the top. The wooden steps creaked as we passed. The musty smell was intense inside, as in all the places we had visited there. After all, all the buildings are old and retain their original building materials and design, therefore that smell was not surprising.
We could also see up close the mechanism that makes the wooden puppets rotate and ring the bell every hour.
When we reached the top and saw the balcony, we hurried to watch the incredible view over Sighisoara and its neighbouring lands!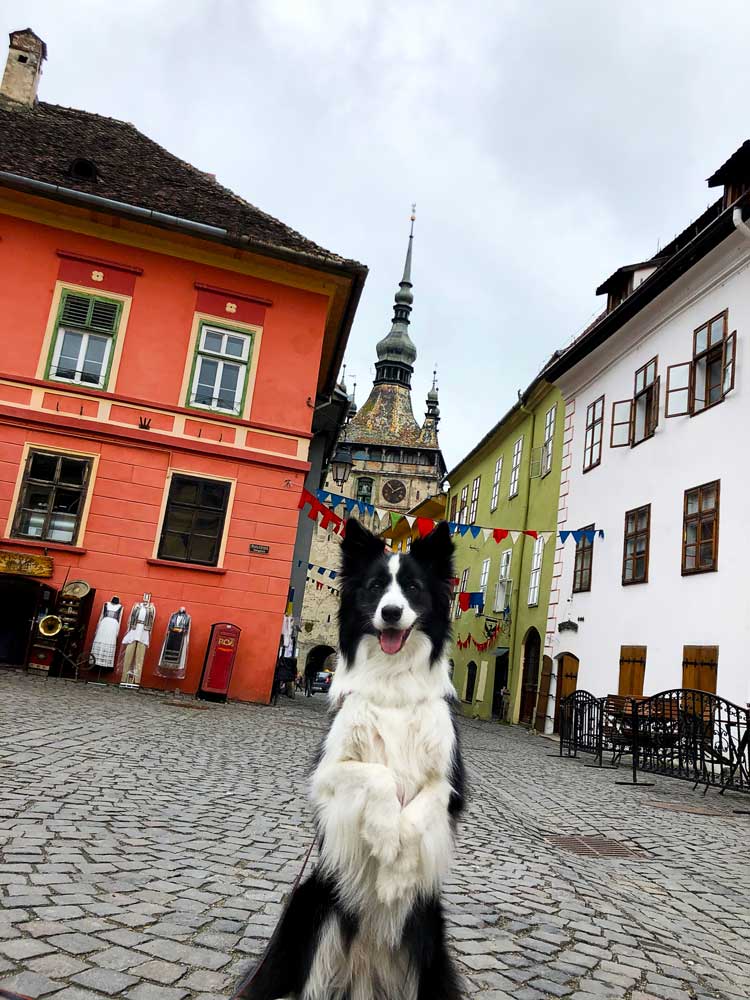 Outside the walls of Sighisoara, we had lunch at Vin Tage, a modern and "out of the box" spot. Its terrace had an incredible view of the tower we had visited a few hours ago.
As we left that city in Romania, we realized how rare it is to find a place like Sighisoara; a medieval town, somewhere frozen in time and, in the same way, full of life and color! Those streets made us dream about fairytales and we can't wait to stop there again and live a little more of that culture and those people.
Watch the video about our visit to the city of Count Dracula, in Romania!
Kisses, hugs and licks
Sara, Pedro and RAFITA 🐶