Pet chitchat: Travel by train with a dog in Portugal
Do you want to travel by train with your pet? Do you know what the rules are? You don't need to search any further! We researched for you and went to different train and metro stations in the country to find out how everything works… and Rafa came with us, of course! Stay there to find out the information we got!
We arrived very early in the morning at São Bento station, in Oporto, for another adventure with our dog. This day would be quite different from the usual plane and car trips that we usually take. We were going to travel by train to Lisbon! We went to São Bento station by metro. In Lisbon, we also made a point of using public transport to understand how this dynamic of car-free riding works when you're with your dog.
Travelling in Portugal
According to CP – Comboios de Portugal, there are different types of rail transport in our country and, therefore, the rules are different between them.
Urban trains (Lisbon, Oporto and Coimbra):
Large-sized dog – FREE
Small-sized dog. FREE
But, both in InterRegional and Regional as well as in Alfa Pendular and Intercidades, it's already quite different:
InterRegional and Regional:
Dogs on a leash do pay half a ticket
Small dogs that can join as a hand volume in a transport box can go freely.
Alfa Pendular and Intercidades:
Small dogs inside the carrier can go freely
Dogs on a leash pay a full ticket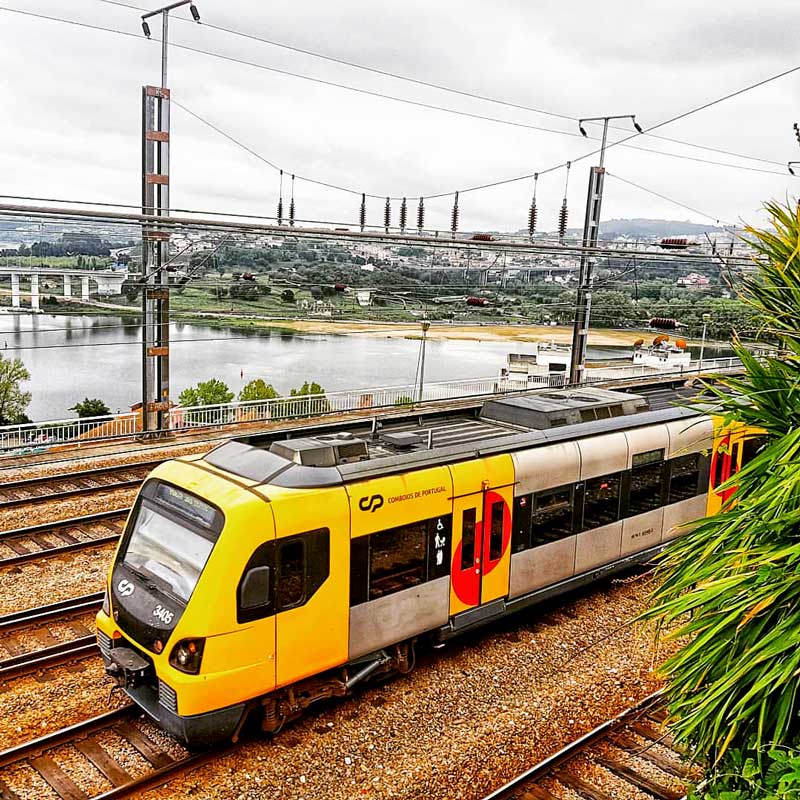 Train and Metro – what's in common?
There are some things in common between train and metro journeys (Oporto and Lisbon) in Portugal. For example, if you have a small dog, he has to go inside a transport box that cannot be more than 60x35x35 cm in size. Furthermore, all together cannot exceed 10 kg. Also, pet transport on metro is free, as well as urban trains.
Besides these rules in common, there are several other important ones such as:
It is mandatory to bring the pet documents updated (vaccination bulletin and municipal license)
Muzzle and short leash are mandatory
The animal cannot fill a place
The animal cannot join if it is in poor health or hygiene condition.
Can't make noise or be smelly
Transported animals can't also disturb other passengers by their size. Since no dimension or breed is mentioned, this rule seems subjective. We think that, for example, a Saint Bernard or a Great Dane are not considered as small. 🙂
Indeed, we do not agree with the law, but potentially dangerous breeds cannot join trains or metro in Portugal. They are not even allowed on any Portuguese public transport.
Although the rules for animal transport in Oporto and Lisbon metros are the same and guided by the regulations of the trains already mentioned, Metro do Porto (Oporto) still has some restrictions on it during rush hours. This means that circulation is allowed in two slots; between 10am and 5pm and between 7pm and 1am.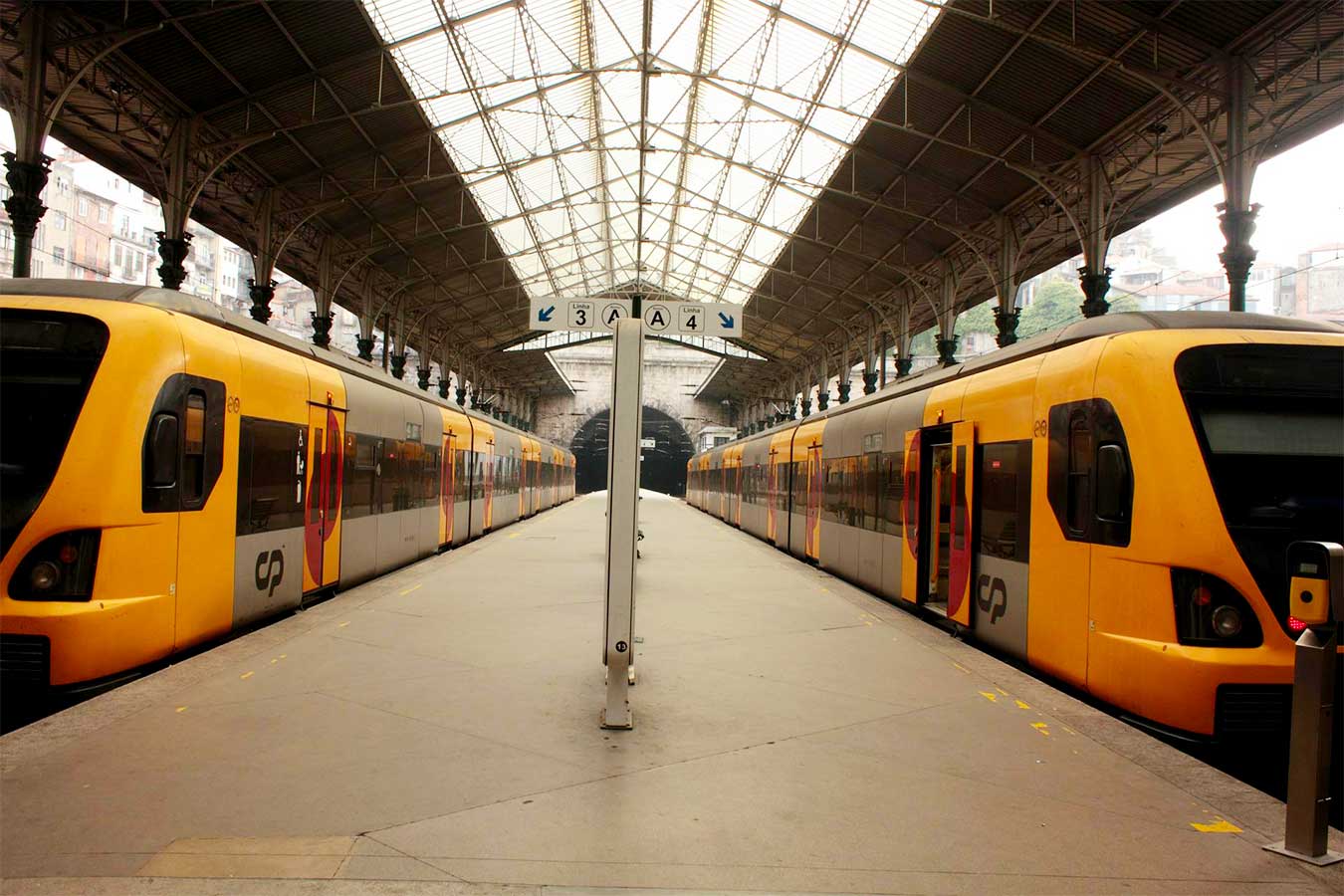 International travels on sight…but only for a few…
Regarding international trains, the rules are a little different. All in all, it is possible to take your dog, but only if it is inside a transport box as a hand volume, not exceeding 10 kg weight and 60x35x35 cm dimension maximum.
Regarding our situation, international travel by train with Rafa had to be crossed off the list. 🙁
In addition, both on the Sud Expresso and the Lusitânia (from Lisbon to Madrid), you will have to pay a €30 fee to be able to take your pet with you. But not everything is bad. In both, you can have your pet with you in the sleeping carriage so both can enjoy a nice nap together, as long as you buy the full price of the room. The maximum is two animals per room.
On the Celta train, animal transport is free.
In general, it is also important to mention that, to travel with your pet by train or subway, you will always have to take care of everything in person, at the ticket office. When requested, tickets must also always be presented on paper, as well as the animal's original documents.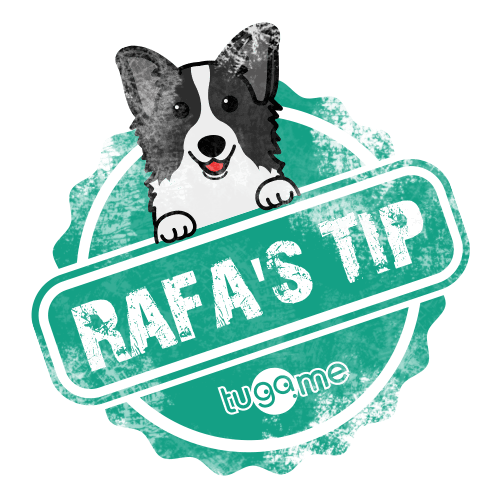 In any of these transports, only one dog per person is allowed. So, if you have more than one pet, you should be accompanied by another person/people on the trip.
End of trip
Although some of the rules do not make sense to us, we ended this trip between Porto and Lisbon, aboard Intercidades with a positive assessment. Our Rafa wanted to remain discreet and away from the flashes, but fame haunts him, so he had to take some pictures with fans there! 😛
It is important to mention that our dog is perfectly adapted to public and crowded spaces, so it was a very peaceful trip for him, always sleeping at our feet. However, if your buddy is not used to these places, we do not advise you to travel with him without any type of preparation, as it can cause him stress.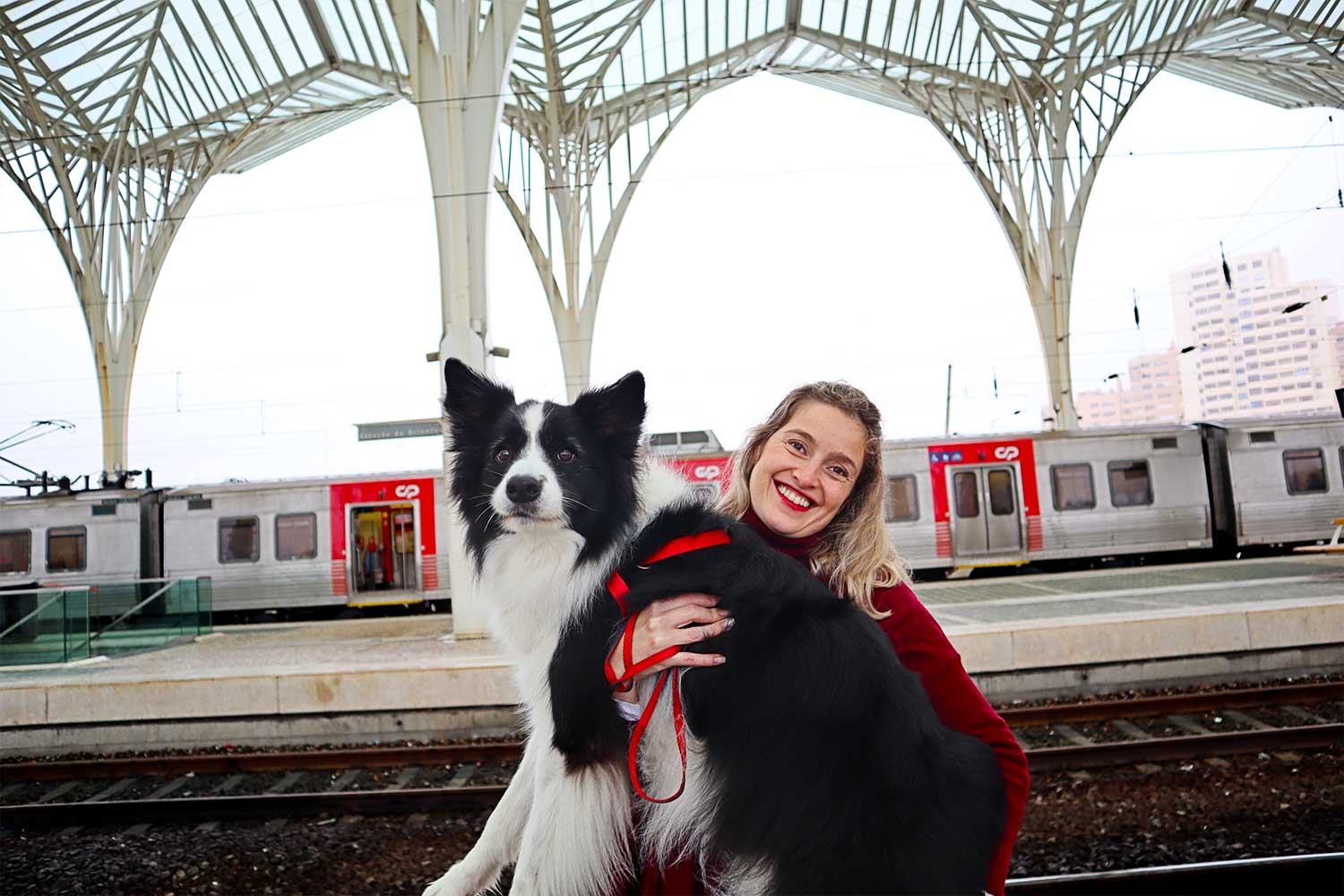 In any case, we believe that, in general, the rules for transporting pets on Portuguese public transport are understandable, and there is always space to evolve towards the greater inclusion of our four-legged buddies.
Kisses, hugs and licks
Sara, Pedro and RAFITA 🐶
Useful links: