Pet friendly tour around Porto: what can we do on rainy days with our dog?
Winter in the North of Portugal can be harsh, we all know that. However, there are several possible activities to do when you don't feel like staying at home on these colder days. But is there a chance for our pet to join us? We came to the area of Porto to find friendly places! Read this article and find them with us!
What is in the law
In 2018, the new law that allows pets in commercial establishments was approved (Law No.15/2018). From June of that same year, pets could enter cafes, restaurants and stores together with their owners, according to the permission stipulated by the owners of each place. Thus, as there is an authorization, animals must enter and be on a short leash only or properly conditioned. They must also be in good hygiene and health condition, without disturbing the normal functioning of the space.
We then came to explore the Porto area and find some pet-friendly places to spend this cold day with our Rafa.
Did we go shopping? Of course!
We started by having lunch at Mercearia do Miguel, in Foz, which is now closed, but that didn't leave us with a bitter mouth. The food was truly good! We opted for some natural juices, salads, among other healthy delicacies. Our Rafa not only got into the establishment but he was also given a water bowl and a buddy to play with! 🙂
We were feeling nice, but it was still drizzling in Porto. What to do next?
We decided on Mira Maia Shopping, which is also a pet-friendly place. However, to get in the space with Rafa for the first time, it was necessary to pre-register until the previous day. It was done through the website. As such, our dog could get in the upcoming visits to the shopping as well… as long as we brought his "regular guest" identification plate, its documents and the municipal license.
Meanwhile, Marshopping become a pet-friendly place as well, so that pets can already be in common areas, except restaurants and some stores. To see which stores adhere to the concept, click here.
We weren't able to walk all over the mall as we wanted, but we were able to enter it, on the condition that we only went to the pet shop. Of course, we were! Rafa even got another raincoat! Isn't he lucky? 🙂
Beer for three? Sure!
Our next stop was Hop Trip Craft Beer, a craft brewery in Matosinhos, where malt is not lacking… not even for dogs! Yes, you read well. Here, there is a craft beer especially conceived for dogs. Since it is a pet-friendly place, canine customers also have their perks! Unfortunately, Rafa couldn't try it due to lack of stock, but he was entitled to a bowl of water and, once again, a four-legged friend to play with. We tried the drinks while he's playing. It seems fair enough! 🙂
We ended this tour with a dinner that was impossible to refuse! We went to Boa Bao, a pan-Asian restaurant in downtown Porto, where chic yet casual surroundings merge with a range of flavours, from Thai, Vietnamese, Japanese or Chinese! This space is also "buddy-proof", so Rafa joined us during this pleasant meal with friends.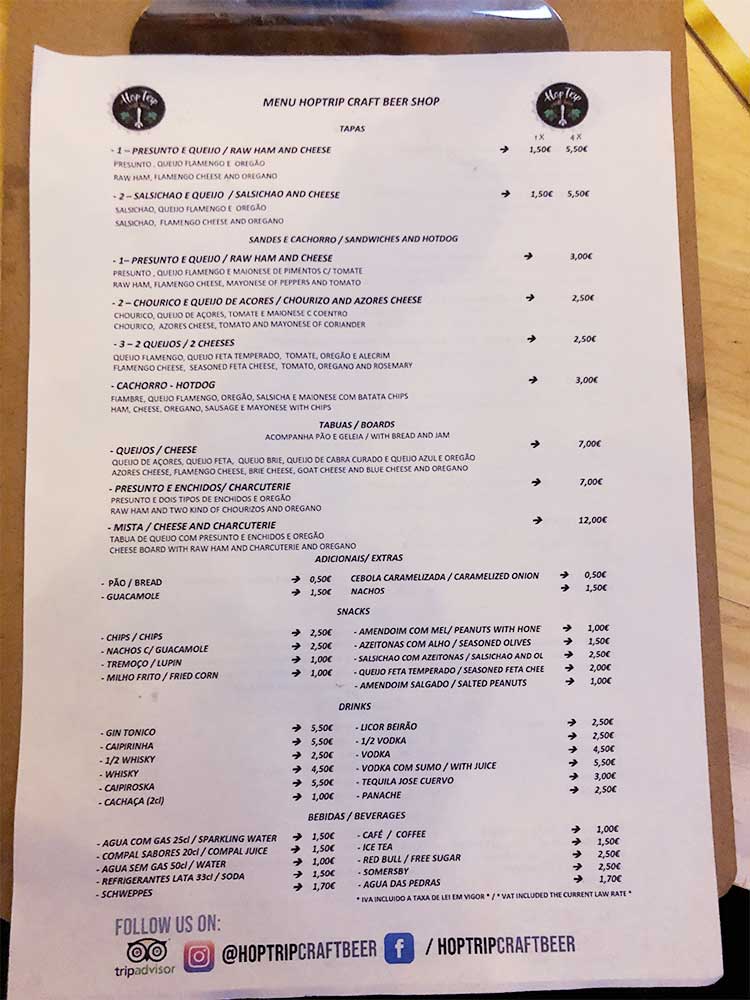 Although the law on the presence of pets in commercial establishments is recent, it is already possible to notice a slight evolution. With this route, we realized that, at least in big cities, small steps are being noticed, towards the inclusion of our pets in situations that, for us, are routine and should be seen as such.
We challenge you, too, to take your pet to pet-friendly places in your city! They deserve it! 🙂
Watch our video about this tour and let yourself be inspired!
Find out here one of the most pet-friendly cities in Europe!
Kisses, hugs and licks
Sara, Pedro and RAFITA 🐶