Discovering Neum: The only beach in Bosnia and Herzegovina
In the 1990s, several countries suffered during the Yugoslavia defragmentation. War, deaths and poverty are some of the names that echo in our minds whenever we hear about these "new countries". Bosnia and Herzegovina is undoubtedly one of them. We came to discover the only beach area in this country!
Read this article and get to know it with us!
We came to celebrate Rafa's 25th country and to meet one that we were very curious about, even just by hearing about it on television for years and years As such, during our road trip through the Eastern Europe countries, between Split and Dubrovnik, Croatia, we decided to take a detour and get to know a little piece of Bosnia and Herzegovina!
Another country, another adventure
After several years of bloody conflict, Bosnia and Herzegovina is now a calmer place, trying to heal its war wounds. So calm that it has become the perfect holiday destination, mostly for Croatians. They're right next door and do not miss the chance to visit this country and its only beach, in Neum, every summer!
After a trip with an overnight stay at the Hotel Nova, we woke up late, but with an incredible view over the bay! After all, the rest was more than deserved, especially over there, where we were very welcomed! But the clock didn't stop for a second, so we hurried to pack the bags, check out and leave to explore the city as much as possible!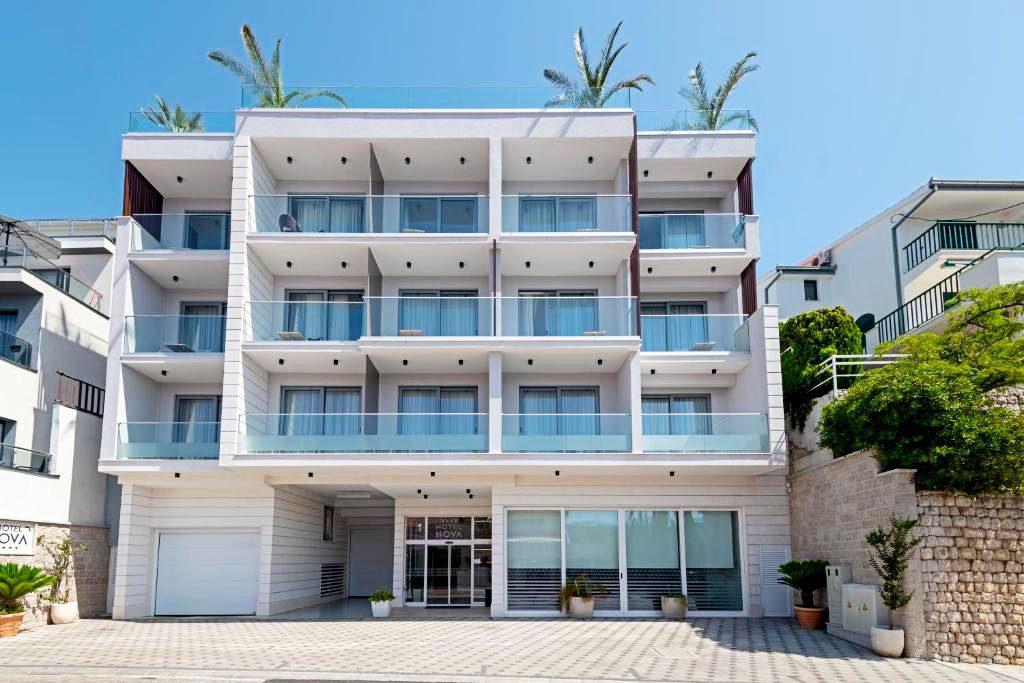 Exploring the city
Neum is a coastal city in the south of the country and a few kilometres from Dubrovnik, Croatia. Although it's beautiful, with a very interesting short coastal road, it is a very seasonal place. In summer, from July to September, the traffic is chaotic, so we can say that we were lucky to visit this country in the middle of May! We didn't see almost anyone there, neither on the beach nor at the marina, where almost all the places were closed!
It's a 24.5km-long coastline only. A short coastline with deep blue waters that invite us to dive or to go on a boat trip. But this time, we just soaked up the sun, as the Adriatic Sea can be quite cold!
We went back into the car and headed downtown, looking for a restaurant to eat brunch. After this unceasing search for an open place, we found Sud Restoran Odisej, where Rafa even met another buddy, lying from across the room! 🙂
Mushroom soup, frogs leg nuggets…yes, you read that right! We admit that the taste was very similar to chicken. But it was delicious!
But the final bill was not that delicious, as prices were set for tourists. We considered that 24.93 euros for a light meal would be way too much, considering that the restaurant was already far from the most touristy place and that we were out of the bathing season.
However, we had the chance to try that Bosnian delicacy that, by itself, soon made us see the glass as "half full". 🙂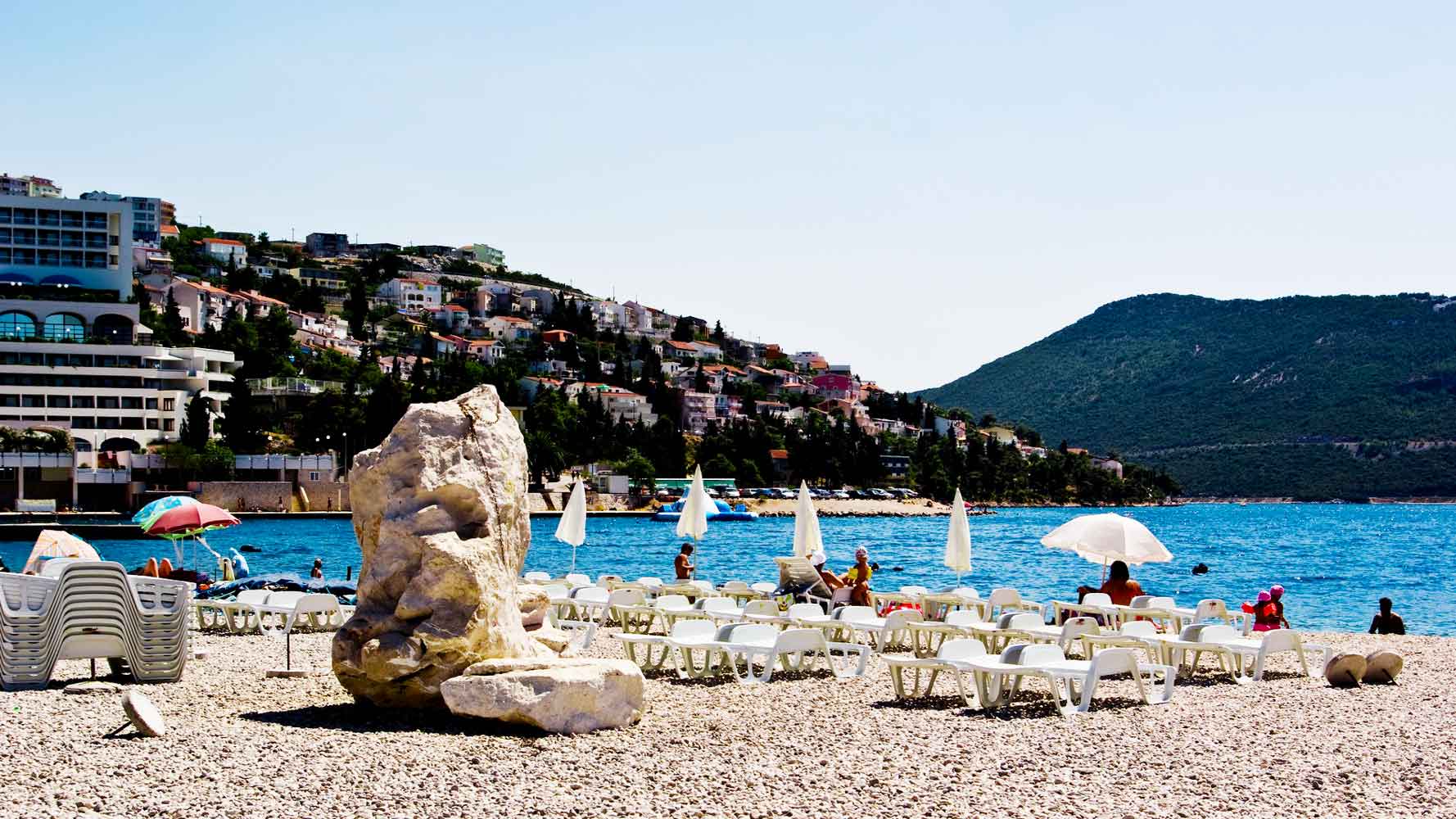 But not everything is perfect…
During our short stay in Bosnia and Herzegovina, we came to see that the vast majority of establishments (shops, cafes and restaurants) preferred cash payment. So we hardly found places where they accepted card payments. Bearing in mind that our road trip included going through several countries, it would not be that practical to fill the purse with different currency coins, right?
We are used to Revolut, a super practical card for payments and withdrawals abroad, without any fee (see our article about Revolut). It was the best solution we found for expenses in Bosnia and Herzegovina for just 1 day. That same day, we would go back to Croatia again, which would certainly mean spending some time exchanging currencies at an exchange office. And time is money, right? 🙂
A place in the sun
After a delicious lunch, a nap would come in handy, of course! And if the seawater was cold there, the same could not be said for the sun. As such, Sara soon took the chance to roll out the beach towel on the hood of the car and enjoy that almost summer heat, together with our dog. Well, Rafa indeed had his eye on the sea, maybe imagining some great dives. But we're out of time and had no way to bathe him afterwards, so that kind of fun would have to be left for later! 🙂
After a few moments standing there by the waterfront, just existing and watching the view over that blue water, we decided to make our way back to Croatia, where we would visit the city of Dubrovnik. But you'll be able to know about it in another article!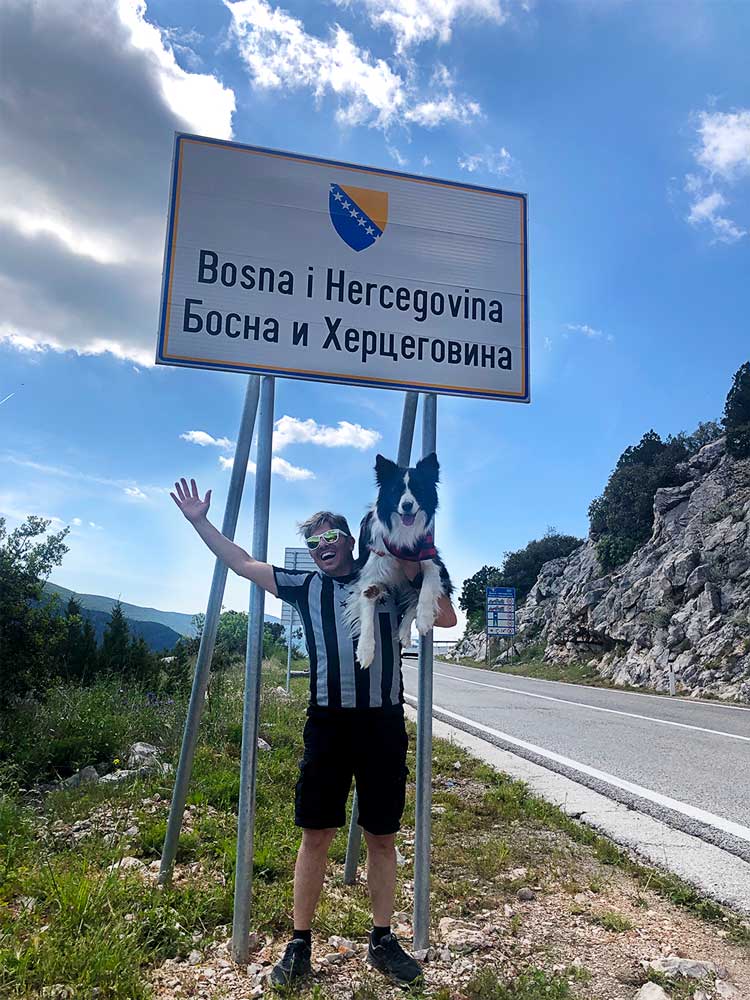 Our opinion
To sum up and thinking about our stay in Bosnia and Herzegovina, we can say that Neum seemed like a small "ghost town". Beautiful for its landscapes (those that we were able to see) but empty of the local atmosphere itself. Many commercial spaces were closed, perhaps waiting for the usual summer crowds.
Regarding the few people we met, we found them very nice and friendly, although the journey towards a more tourism-oriented city is still long there. We want to believe that it is only a matter of time until Bosnia and Herzegovina becomes a great European or even global attraction.
We hope to return there soon to explore other places in the country and let us be a little more enchanted by its landscapes and people!
Watch our video about the only beach in Bosnia and Herzegovina!
Kisses, hugs and licks
Sara, Pedro and RAFITA 🐶
Useful links: