The best Design hotels in Portugal: a dream wishlist!
Two years of pandemic and many months of lockdown, but with vaccinations and most restrictions lifted, it's time to get back to planning a vacation! After all, dreaming is the first step to make it happen!
Keep reading this article and get to know our Design hotels wishlist in Portugal! 🙂
The world of luxury accommodation
To avoid starting on big trips, we'd prefer to get to know the charms of our country. As such, we were looking for design hotels all over Portugal and we have to say that we loved each of our discoveries! But let's start from the beginning: after all, what is a Design Hotel?
In this type of accommodation, luxury merges art and quality in a perfect symbiosis that invites us to stay. The decoration is a must-have in this type of hotel, with artworks made by renowned artists on sophisticated and comfy architecture. Sensations are the main focus. A stay in a Design hotel is a unique sensory experience, which pleases the sight, smell and taste. The scents are smooth, refined, are as important as haute cuisine, as the restaurants in these hotels excel in their refined cuisine. It is appealing to all tastes, always conceived by award-winning chefs.
These features must go hand in hand with a privileged location, in touch with nature or a prime city area.
In this research, we chose hotels far from big cities, located in very different areas on the map, such as Ponte de Lima, Serra da Estrela, Óbidos, Alto Alentejo and Trás-os-Montes. It was impossible not to feel like visiting them all. Otherwise, see for yourself!
Please note that none of the values we'll show here include promotions or discounts. These are one-night stay simulations for two people with breakfast included.
Anyway, according to dates, prices may change so it's a matter of taking a look and choosing the best time to pamper yourself! 🙂
Ecology and luxury can come together!
How about a night in a suite with an indoor fireplace?
Well, in Hotel Rio do Prado, a few kilometres from Óbidos town, there are luxury suites where an ecological concept prevails. In addition to the beautiful rooms, with wood ceilings and walls, this hotel is in a privileged space, where only the twittering of birds will "annoy" you. There is also a spa, two outdoor swimming pools, five lakes, a bicycle rental service, horse riding and a library, in addition to delicious (we suppose) delicacies at Maria Batata restaurant. It also includes a certified organic farming space, which makes meals even more special.
The Superior Suite (which we did the simulation for) includes indoor and outdoor fireplaces and a relaxing bath. Don't forget the included breakfast! Due to the great reviews, it must be a delight!
The cost for a night, for the simulated dates, would be €210 (convert to your currency here).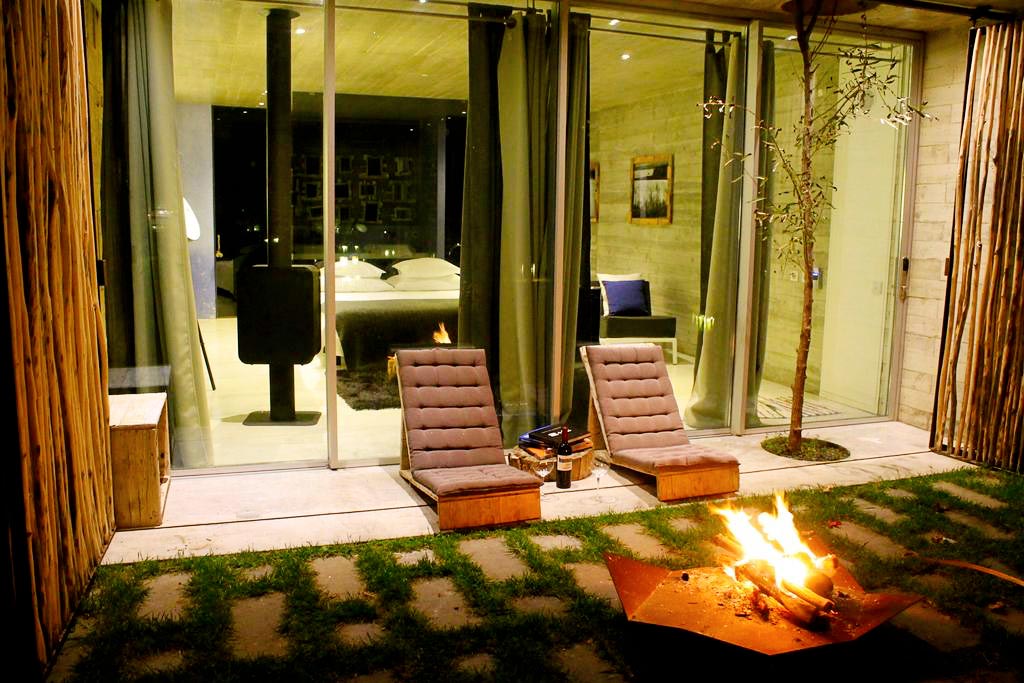 The charming Alentejo…and a glass of wine!
Tasting a good wine in the charming rest of Alentejo. In the meantime, a swim in the pool… or the Jacuzzi, whichever you prefer.
At Torre de Palma Wine Hotel, all this is possible. The backdrop to this place is whitewashed walls and plains as far as the eye can see!
It is located in the friendly village of Monforte, in Portalegre district and has everything you need to relax exquisitely: spa (massages, jacuzzi, Turkish bath), indoor and outdoor swimming pool, bike rental, horse riding and games room.
If you are a wine lover, here you'll be able to explore that culture a little more, as this hotel has its wine production. To keep up with everything, you'll be able to visit the winery, the vineyards and the barrels and tasting rooms. You will also be able to taste these and other flavours as accompaniments to Alentejo delicacies, so typical and tasty!
It sounds amazing, don't you think?
For a one-night stay with breakfast included (which can be served in the room), it's for 280 euros (the values are converted into your currency here).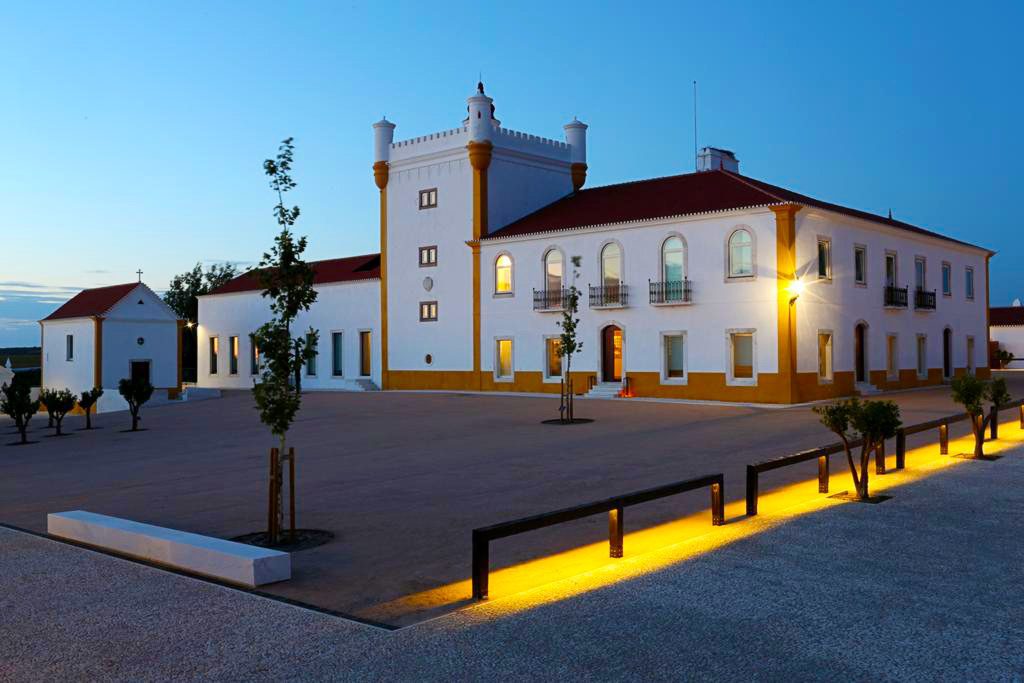 Opening your eyes, drawing the curtains… Say good morning to the mountains!
Going to the window and be amazed by a breathtaking mountain view?
Casa de São Lourenço – Burel Mountains Hotel is located in the cosy village of Manteigas, in the middle of Serra da Estrela and its pictures are wonderful! It is different from other spots in almost everything; its panoramic, bright and spacious rooms to the spa services, with massage, Turkish bath, sauna, steam bath and relaxation room. It's impossible not to wake up in a good mood!
After a great continental breakfast (by the reviews, it sure is!), there are many activities which you can spend your time in! You can go hiking, canoeing, bike rides, or visit the last burel factory in Manteigas, recently rebuilt, where they still use traditional machinery.
What about a dive in the indoor or outdoor pool? Yes, the pools are one pool only; half inside the hotel and the other half is outside. Don't you believe it? See for yourself!
In addition, the hotel also offers babysitting and personal training services.
The simulation we made for a Panoramic Premium Double Room would be €245/night (the values are converted into your currency here).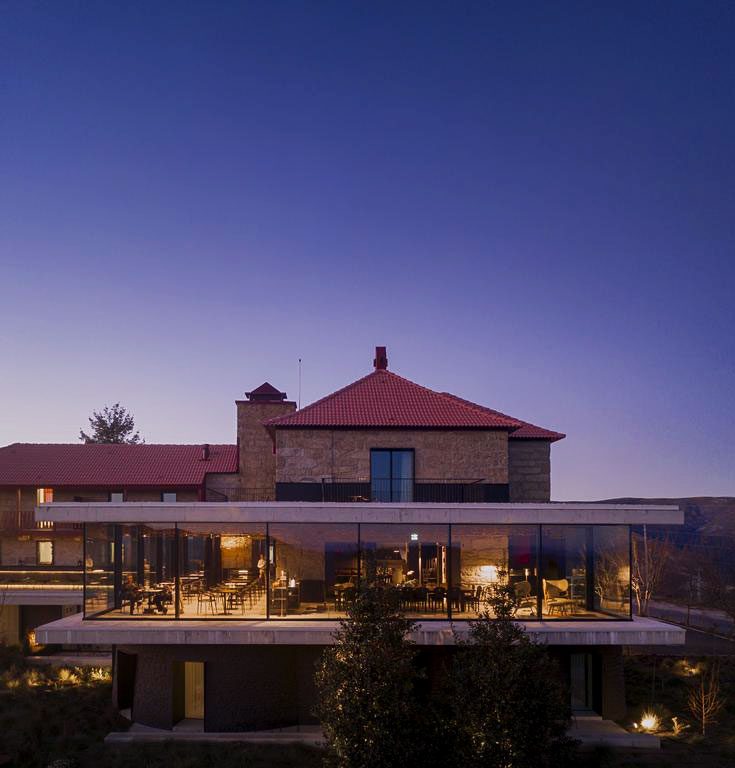 A dream perched on a tree!
Who has never dreamed of having a treehouse?
At Pedras Salgadas Spa & Nature Park you don't need to dream, reality is better than you can ever imagine!
We were surrendered to this space, not only for its ecological and self-sufficient bungalows but also for nature contact.
It is located in Bornes de Aguiar, 7km from Vila Pouca de Aguiar, where Água das Pedras has its origin from! Thus, the hotel itself includes an interactive and sensory museum that is entirely dedicated to this product. The Pedras Experience museum has several experiences and leisure, suitable for children and adults.
But the activities provided by the hotel do not stop there. At Pedras Salgadas there is a spa with massages, sauna, Turkish bath and thermal treatments! You will also have access to an indoor and outdoor swimming pool, tennis court, bike rental, canoeing and horse riding. It will be hard not to work out!
The restaurant serves à la carte meals that can be delivered directly to your bungalow. To relax in the end of the day, there's nothing better than a game of snooker in the games room, and a digestive…or perhaps an Água das Pedras! 🙂
The simulation of a night for two people with breakfast included at Casa da Árvore was for €270. It might be €243 if you do not have free cancellation (the values can be converted into your currency here).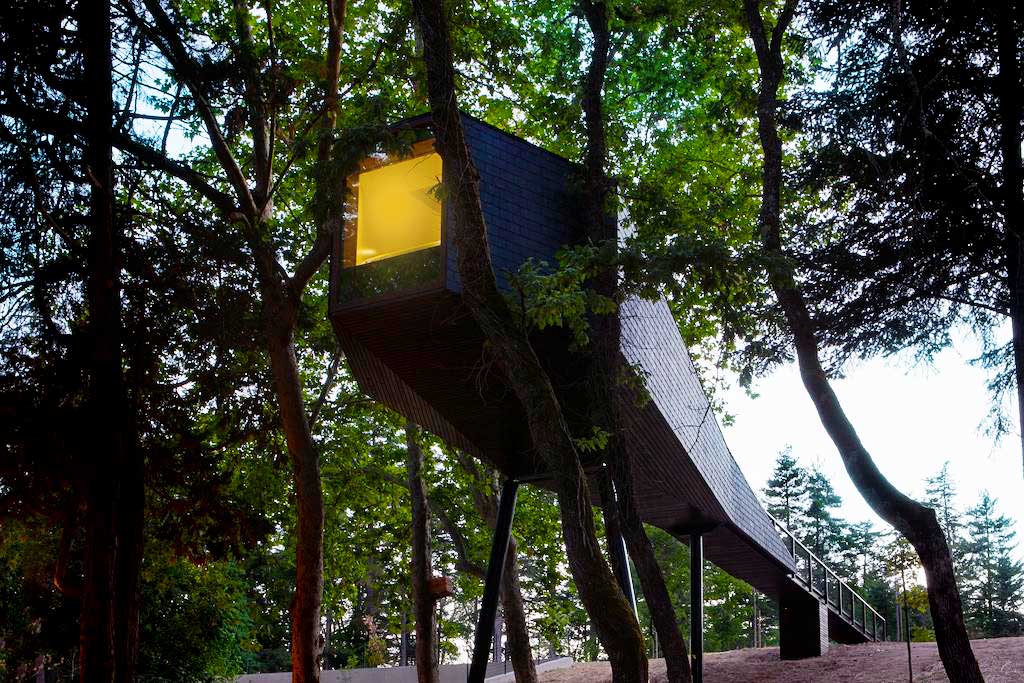 Luxury tents and amazing landscapes!
To end on a high note, there is a paradise not far from Ponte de Lima village. It matches luxury details with a modern design in the typical Portuguese style.
Carmo's Boutique Hotel is irreverent! Rooms in luxury tents and canopy beds, where the natural light shows will certainly make us imagine that we're in a fairy tale (yes, we're already dreaming!)!
As you may guess, this space has a spa with massages, jacuzzi and Turkish bath, indoor and outdoor swimming pool and bike rental. But that's not all!
There are also some activities suggested by the hotel, such as wine tasting, cultural and gastronomic visits, picnics and horse riding!
Besides the breakfast (that is included), it has a restaurant with regional organic products.
All in all, the simulation goes for €395 for two people.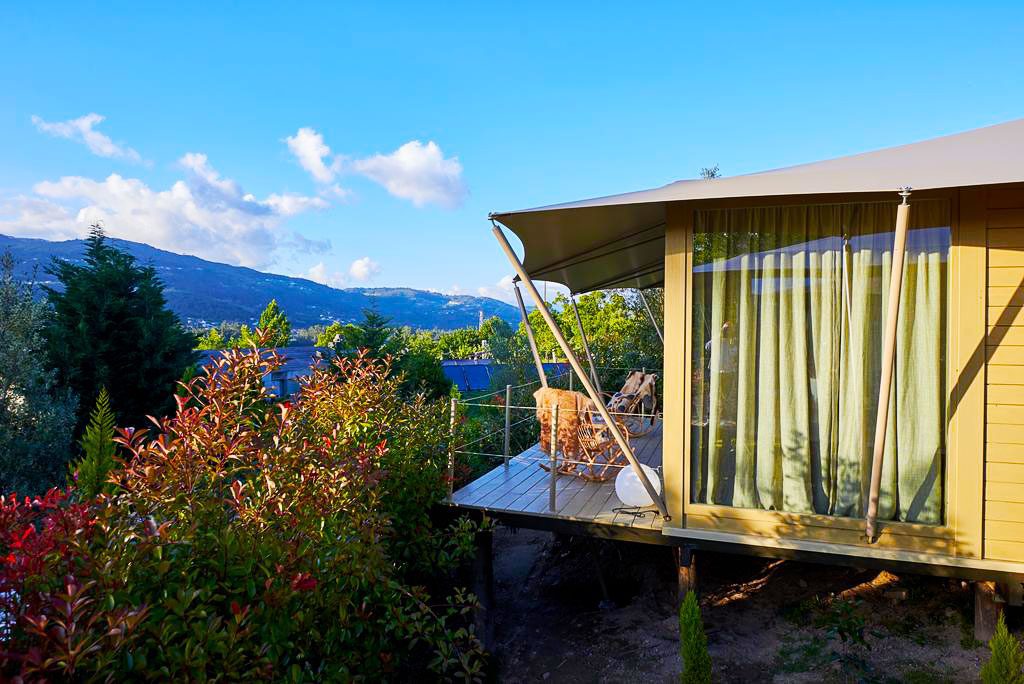 We are now coming down to earth after a quick trip through these five dream places! We know that these are not for all budgets but, once in a while, it will certainly be worth it!
Do you want to know more? Watch our video about this research and let yourself go!
We're ready to restart our adventures! What about you?
Also read our article with 5 reasons to travel in Portugal!
Kisses, hugs and licks
Sara, Pedro and RAFITA 🐶