An adventure in Morocco: Almost meet Hollywood by visiting CLA Studios
It was a stormy afternoon when we arrived in Ouarzazate, the cinema city in Morocco. And why is this?
Because CLA Studios, the stage for recordings of countless Hollywood films and television series, takes us to the imagination of different times and situations that are only possible on the big and small screen.
Do you want to know which secrets we discovered? Swipe to read this article!
Welcome to the wonderful world of Cinema…and Rafita as the main character!
As soon as we passed the main studio gates of the cinema studios, we were taken to another dimension. A dimension of dreams, in which everything is possible. We and our dog, who was able to be with us throughout the whole visit.
For about forty minutes, we passed through several iconic places. Such as the ship from Ben Hur (2016), where you can see the prisoners' paddling area (Rafa loved this part!). Also some scenarios from the movie Gladiator (2000), Asterix and Obelix: Mission Cleopatra (2002). Moroccan desert landscapes were the perfect place to reproduce Ancient Rome and even the kingdom of Westeros from the Game of Thrones series as well (2009/2012).
Along the way, we found some posters with curiosities about each production and advertising billboards.
In these studios, magic also involves props, costumes, storyboards and scale models exhibition of each film and series. It was allowed to touch and take pictures, unlike other displayed studios in other countries.
We were fascinated by the warehouse where the characteristic objects of each film were shown, such as the cross from The Passion of the Christ (2004), Cleopatra's transport car (in Asterix and Obelix: Mission Cleopatra), the mythical ark of Raiders of the Lost Ark (1981). Of course, it was possible to take many funny pictures embodying each character!
Pedro looks like a child at a playground, doesn't he? 🙂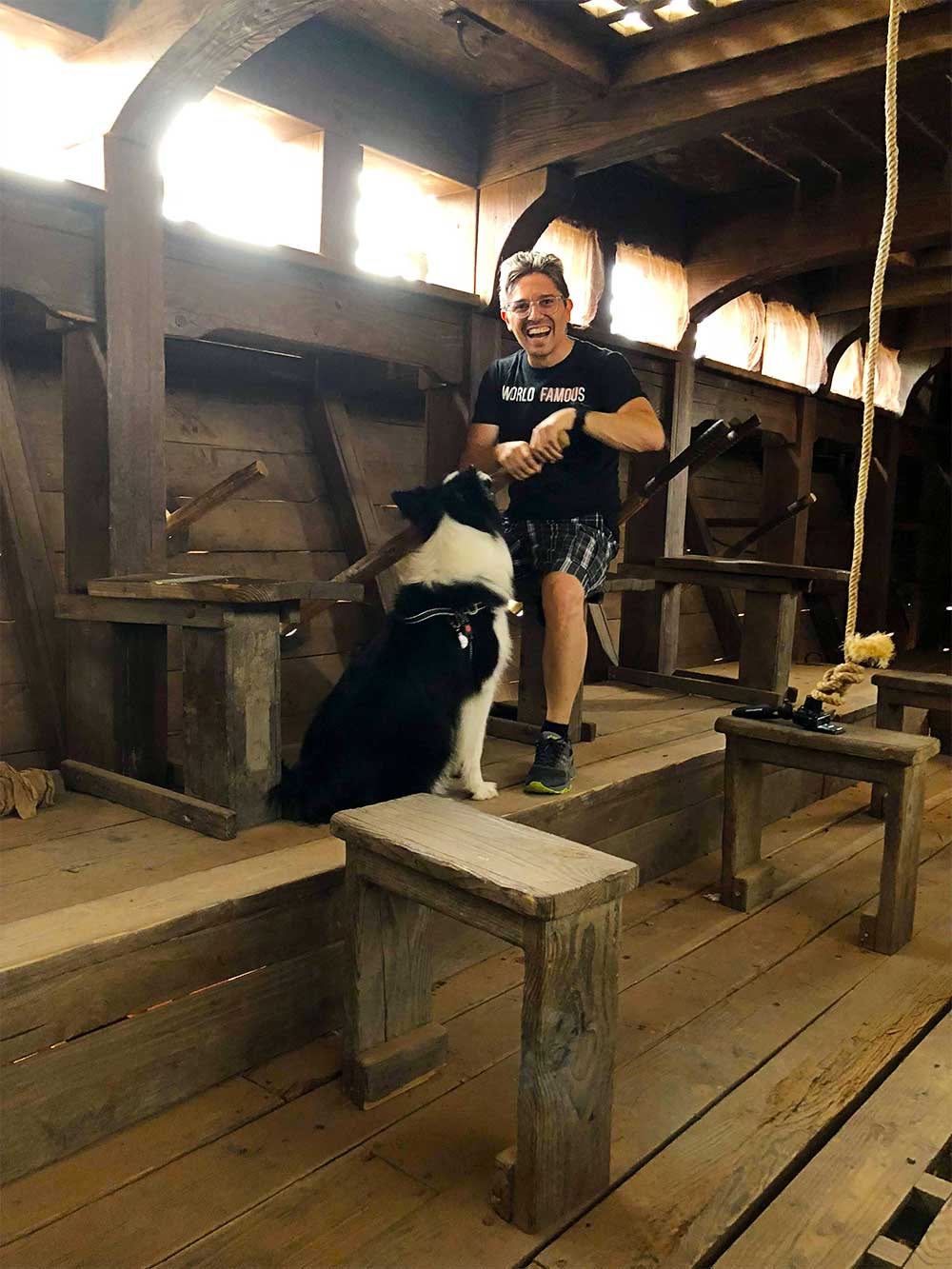 Finding the shooting place
If everything was fascinating until that moment, we were not ready for the magic yet to come. The Fantastic world is really fantastic and it's in Ouarzazate, we can assure you that!
After a short drive, we arrived at the place where the scenes are/were shot. The wind there was intense as the desire to see the scenarios!
Castle walls, drawbridges, wells, war weapons, churches…everything took us to other periods, in a perfect fusion between space and infrastructure. But in these scenarios, there was also room for Ancient Rome, Egypt, the Medieval era… even the Viking era was represented here!
Well, as already checked, Morocco is a multi-tasking country. 🙂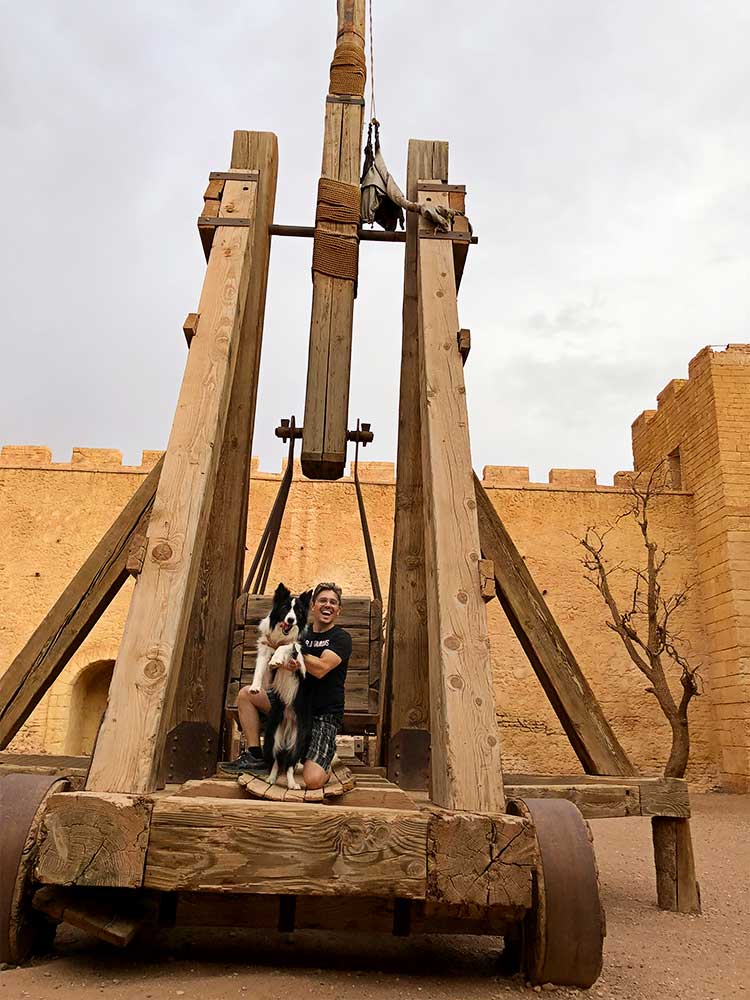 In Morocco, Cinema is also a "must"
It is important to mention that this is a reference country in movie production companies, mainly due to its landscapes and natural lighting, but also because of its multiculturalism.
Thus, since 2001, every year, the iconic Marrakesh International Film Festival takes over this city's main square (Jemaa el-Fna). Where actors, filmmakers, producers and directors gather in a tribute to the Cinema. In this event, national and international productions are shown to the public. Therefore, the aim is to boost contact among professionals in the same area and build "bridges" between different cultures and countries.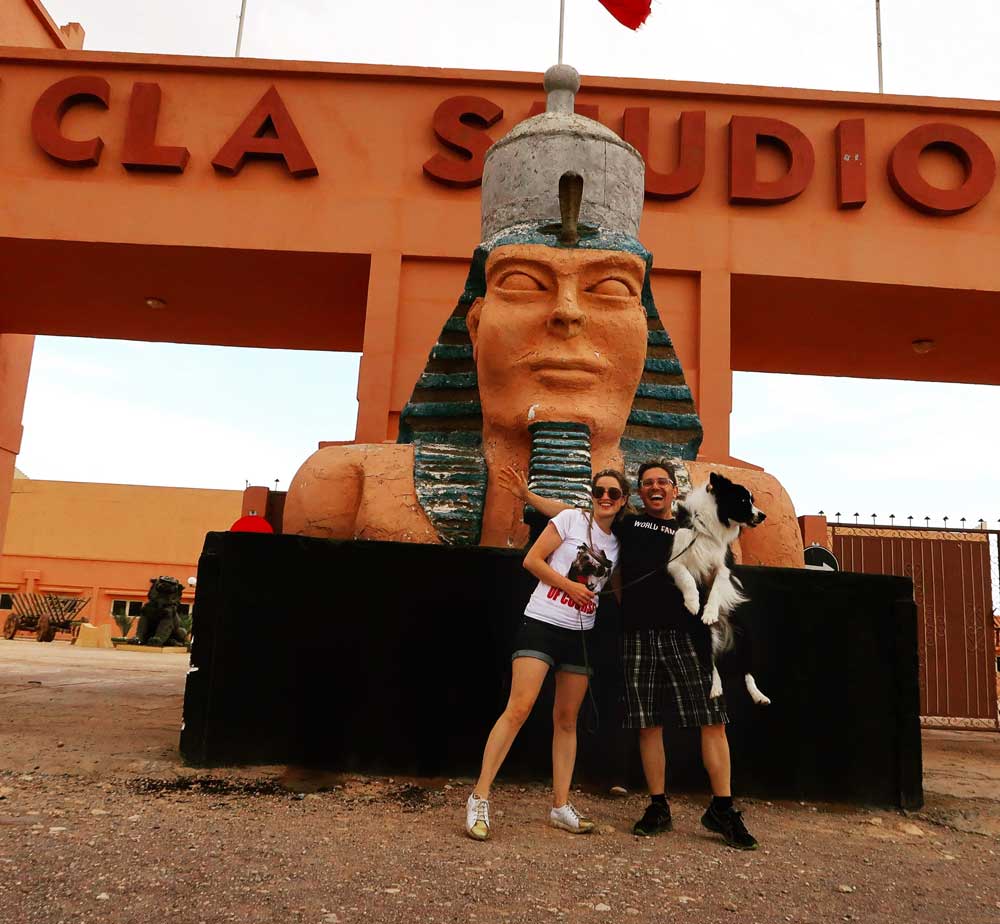 All in all, it was a lot of wind, a lot of sand in the air and three amazed "kids" at CLA Studios! Rafa didn't complain himself, since he even found a friend to play with! 🙂
Watch our video about this great visit!
Don't forget to read our article about the amazing Atlas Mountains!
Next stop? The amazing Sahara Desert!
Kisses, hugs and licks
Sara, Pedro and RAFITA 🐶