Adventure in Morocco: Exploring Chefchaouen, "The Blue Pearl"
You're mistaken if you think that Morocco is a warm colour country only!
We set out to discover cooler tones (but not even cooler temperatures!) in the city of Chefchaouen, towards the end of our trip, in the north of the country and 100 kilometres to the south of Ceuta.
Do you want to know what this city has to offer? Go down to read this article!
Unexpected friends along the way

Since we were leaving from Merzouga and from there to Chefchaouen it was still a long car journey (about 10 hours), we decided to spend a night in Meknès. Therefore it would always be a few hours less driving. Meanwhile, along the way in Ifrane, we stumbled upon characteristic inhabitants of that part of Morocco. The Barbary Macaques (Macaca Sylvanus). Very friendly and immediately came to us asking for what? Food, of course! But the one who found this empathy strange was Rafa, who did not feel inhibited to bark at the primates! He was very curious and wanted to get close to them. However, it should be stressed that despite being very friendly and used to interact with humans, these animals are also wild, and some precaution is advised.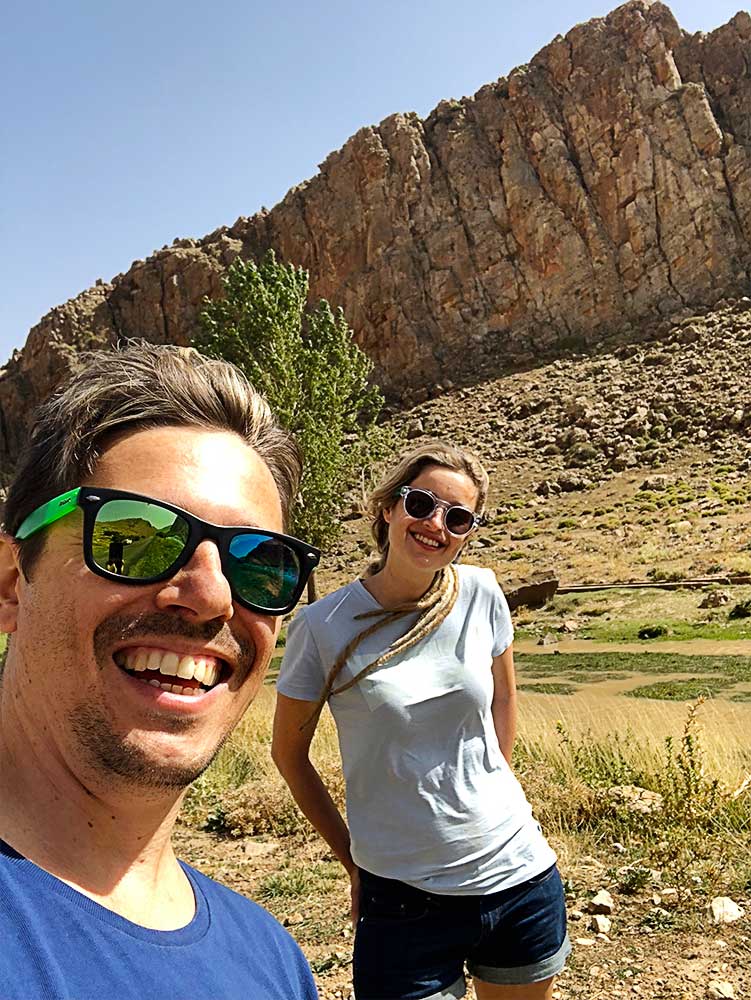 Meknès, an imperial city
After a deserved shower at Riad Golf Stinia, the comfy and beautiful three-star hotel we chose for that night, we set off on our way. Backpack on our backs and Rafita on the leash, off we went to explore Meknès, the "Moroccan Versailles", as it was known during the French colonial period (1912 to 1956).
Meknès is one of the four imperial cities in Morocco. It was founded in 1672 and is a pleasant and peaceful city, with plenty of museums, palaces and mosques.

Strolling to know a place is good, but if you are hungry, no legs can stand it, so we decided not to venture out too much and enjoy dinner right there, in the centre of Meknès.
What about after lunch? Well, we went to rest. As Sara says, "Being on vacation is also tiring". 🙂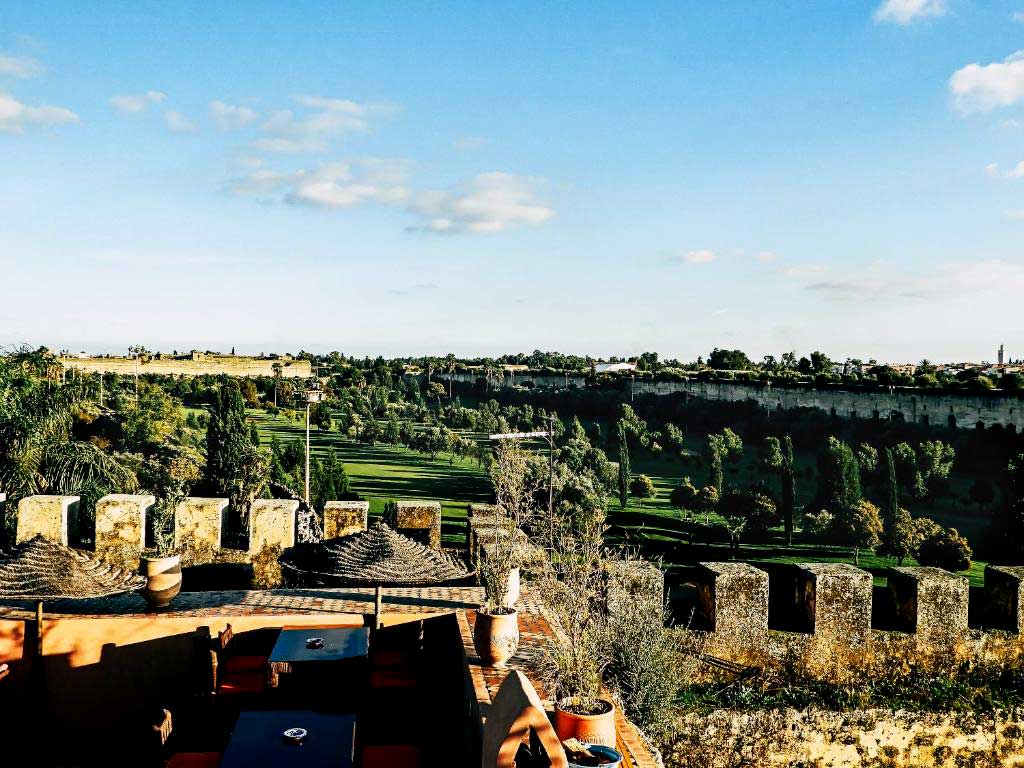 Through "The Blue Pearl" streets
In the morning, after a breakfast prepared with all the affection by the hotel staff, we felt strong enough for another day of discovery. This time, we finally went to explore the well-known "Blue Pearl", Chefchaouen (or "Xexuão", in good Portuguese). We already knew that most of the buildings in the historic city centre/medina are painted blue. However, realizing the main reason for this became the most surprising part of this visit.
Chefchaouen sits between two mountain peaks, Kelaa and Megu, and it seems to be "embedded" between two horns. Chef means "to look" and chaouen means "horns" in Moroccan (we are becoming multilingual 😛 ). It was founded in 1471 and was populated by elements from Muslim Spain (Al-Andalus). Though it was a desirable city, having been disputed by the Portuguese and the Spanish. Nevertheless, until the beginning of the 20th century, the entry of non-Muslim people was forbidden.
Regarding the dominant colour on houses' windows and walls, there are several stories, all of them valid; "blue keeps mosquitoes away", "blue represents God", "blue keeps the houses cooler in hot weather". But the most heard is that the colour blue means peace, after so many disputes over the city.
Look at Pedro's "dress code" for this tour! Blue glasses matching the city's colour!. The funniest part is that it was not done on purpose! 🙂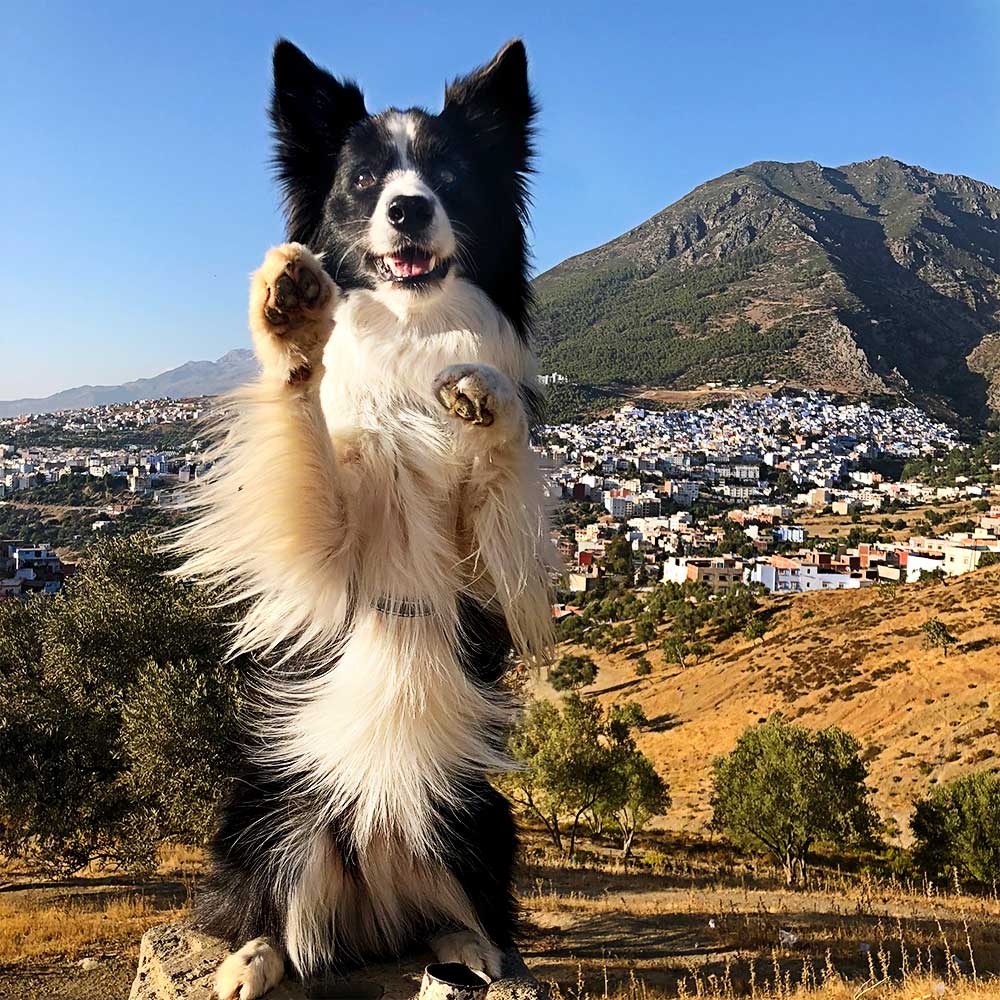 Chefchaouen is much more than a blue city!

Chefchaouen is a wonderful city, with narrow streets, nooks and arches that come out to fantastic pictures. Despite being a city, the old town has one of the smallest medinas you will find in the country!
Besides being worthy of a movie, this place is multipurpose, with souks that sell the most varied typical elements.
In handicrafts, you may find leather and wool typical clothes and traditional blankets. The goat cheese is delicious and even reminds us of some Portuguese treats!
On the other hand, cannabis plantings are also a reality. No, we haven't been to any, as that long walk along those steep streets was enough for us to be relaxed. 🙂
Even Rafa, who is always energetic, kept stopping along the way to rest!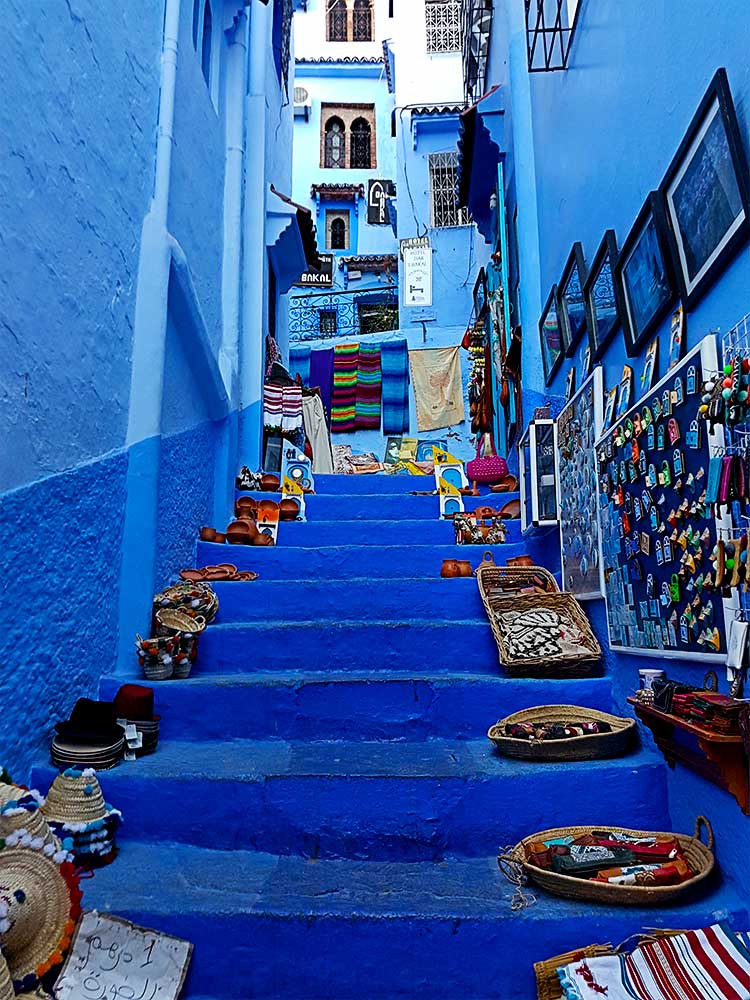 Finally, at night, lights illuminate even the darkest alleys and the excitement continues throughout the blue city. We opted for a typical Moroccan dinner as a farewell to a country that welcomed us so well for twelve days.
Watch the video of this visit to Chefchaouen and subscribe to our channel to keep an eye on our adventures!
Kisses, hugs and licks
Sara, Pedro and RAFITA 🐶