An adventure in Morocco: Marrakesh, the city where everything happens
Did you ever heard about "the red city"? Well, Marrakesh is known as "the red city of Morocco" and we explored it with our dog to the fullest!
Are you curious to know how Rafa was welcomed in Marrakesh? Swipe up to read this article!
It was very hot that morning in Marrakesh, but we still wanted to visit one of the main points of our trip through Morocco – the famous Jemaa El Fna square, in the medina – a centre where everything converges, capable of transporting us to well-known realities of international cinema! There, everything exists, from souks (shops) where a little bit of everything is sold, to storytellers, jugglers, seers, water workers, musicians, dentists. Yes, you read well, dentists in the middle of the public square! We are not sure if it will be safe to pull a tooth there… the doubt will remain. 😛
Rafa, the serpent whisperer (or hunter) dog
Serpents. Yes, Marrakesh is also known for "serpent charmers" and perhaps this idea might be a little creepy for some of our readers, but both of us were looking forward to seeing and touching those animals! Anyway, until we reached Jemaa El Fna square, we still had an endless number of streets to go through, all narrow with different environments, colours and scents. People circulated in the same space as motorbikes and even carts! In all these streets, our dog was the main star, constantly approached to take pictures. The fact is that, until now, it was not common to see dogs walking in the streets, that's why Rafa's passage was always a reason for wonder.
When we arrived at the square, it was full of people and many, many street vendors. We immediately went to the snake charmers tent.
Without warning, someone passed one of the serpents into Sara's hands. Rafa was not amused but was curious about sniffing it, so we opted to keep a safe distance between these two, just in case. 🙂
To better understand the daily life of this city, we decided to move away from the most touristic areas, where the streets, less crowded, became more spacious and calm. By far, we could still hear the music and sounds of that lively medina.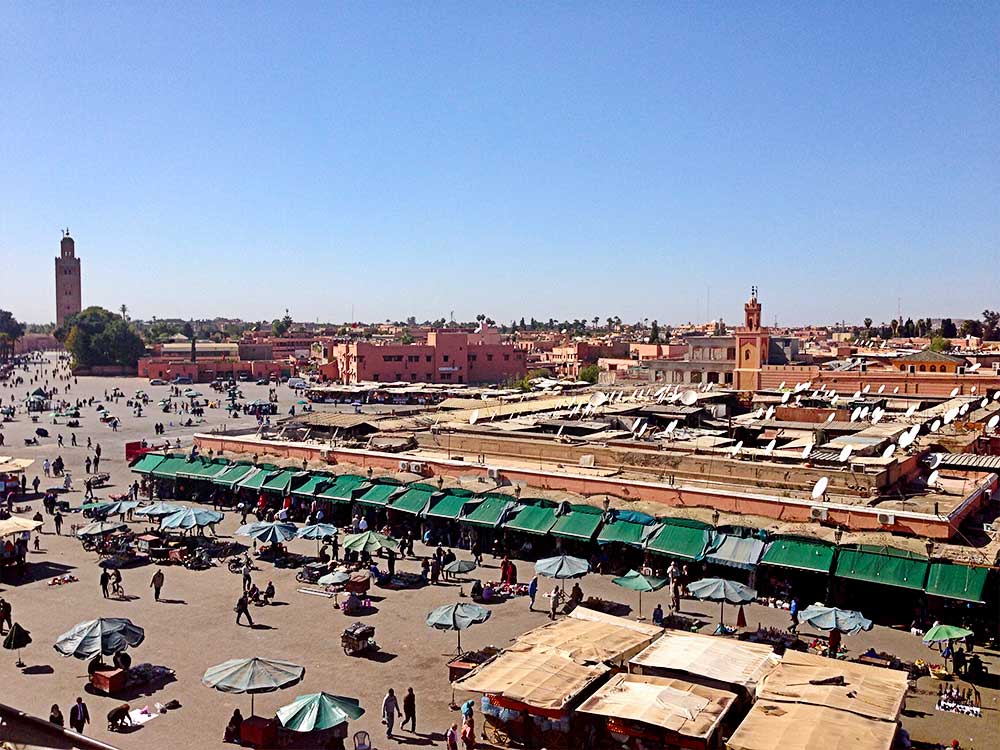 After the heat, a charming hotel to rest!
At first, we planned to go shopping and take a walk in the upcoming area of Marrakesh, but we must admit that it was too hot that afternoon! So decided to play safe and enjoy the pool in the hotel. We also took time to take some fancy pictures, as you can see below. Yes, Rafita did his part as well, as he always does! 🙂
We did not know movie-worthy hotels existed until we got to know the Fellah Hotel. There, nature and decay meet the luxury of a five-star hotel. Modern and trendy, but very welcoming, it is a space that invites you to take pictures for Instagram, as it has already hosted several photo sessions for well-known brands such as Vogue or Bershka. On the one hand, an extensive library; on the other, picnic areas, cats and even donkeys grazing!
This hotel is absolutely pet friendly, so dogs are allowed to bathe in one of the pools.If you're an animal lover and like small luxuries, this is the perfect hotel for you!
The most envious people may say that this is fake, but it's not. At Fellah, this vintage car exists! But without an engine, so no one can venture out!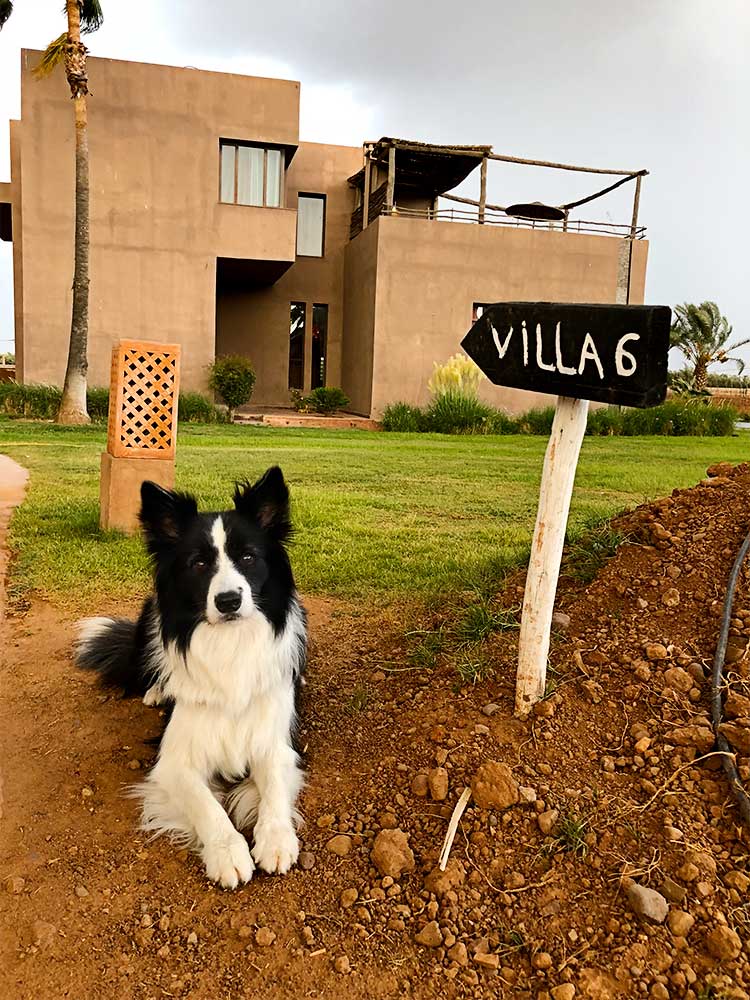 Our stay in Marrakesh ended with a delightful dinner. The restaurant was very close to the hotel and was not the cheapest, honestly. However, it was worth it!

In that city, even at night, temperatures do not fluctuate much. What tropical weather! 🙂
Click here to see the video of the complete Marrakesh adventure!
In the following dawn, we continued our journey to discover the Atlas Mountains. Will you follow us?
See you in the next article!
Kisses, hugs and licks
Sara, Pedro and RAFITA 🐶