From Porto to Lisbon with €1: a dirt-cheap adventure
Do you want to take a road trip through Europe but think it might be too expensive to rent a car anywhere? Are you moving and need a car just for a one-way trip? Are you going to catch the plane but don't want to leave your car at the airport?
You'll love knowing that, with just €1, you can get a car rental for any event! Rental car service takes care of everything else! Find out how in this article!
Ready? Let's go!
It was raining heavily on the day of this experience, but that didn't discourage us from going from Porto to Lisbon with our friends from O MIRADOURO channel, Tietchan and Nuzito. Of course, Driiveme was the key for this tour, as it was the application we used to rent a car. Driiveme is a company that has come to help to reduce the expenses that rental car companies have with rentals and thus help us to rent a car for just one euro.
How exactly? It's pretty simple.
Just install the Driiveme application, create an account and choose the source and destination. It doesn't necessarily have to be just within Portugal, as Driiveme is present all over Europe. Then all you have to do is go to the rental car dealership where your car is (in our case, AVIS) and voilà… let your adventure begin!
Only 1 euro? Isn't it too cheap for a car rental?
The vehicle rental is offered by the application/company for a symbolic amount of €1. This rental entitles you to 24 hours with the vehicle and enough kilometres for a short detour (in case there is something unforeseen, for example). It also includes insurance against third parties, but as we prefer to have everything under control and it was raining, there was a greater chance of an accident, so we took out insurance against all risks, which was only €15. As such, the franchise fee was set to zero and required a deposit only, which was returned at the end of the trip.
Of course, fuel and tolls were our responsibility. However, looking closely at the values practised in Portugal for this type of service, it largely compensated us, also for the fact that we went with our friends, which allowed us to share all the expenses.
€0.50 rental per couple and a total of €16 for 4 people and a dog… such a low price, such a penny to rent a cheap car! 🙂

Moving with Driiveme
It's true! With Driiveme it's given the chance to rent a van for moving, regardless of the destination (as long as the city is available in the app). You can indicate in the app the number of furniture pieces you want to transport and you are immediately shown the type of vehicle you need, according to the volume and measurements of the objects to be transported.
Twists and turns towards Lisbon
To make our trip more exciting, we decided to go from Porto to Lisbon on the national road and after 1 hour and a half, we made our first stop, at Mealhada, to stretch our legs and eat a snack.
It didn't take long until the next stop, this one a little longer so we could have lunch calmly. Thus, we chose the restaurant Manjar do Marquês, in Pombal, where we enjoyed the famous tomato rice with cod cakes!
Last stop? The village of Batalha, where D.Nuno Álvares Pereira and Saint Peter gave us a little help and it stopped raining for some time. 🙂
As such, we visited the outside of the Monastery and took a walk for Rafa to pee.
Lisbon is in sight!
The rain hardly let up during the whole trip, but guess what, when we arrived in Lisbon, the sun came out! We could see happiness even on Rafa's muzzle! Not only for arriving at the destination but also for being able to stroll on a sunny afternoon. 🙂
Anyway, we got to know Lisbon a little more by car, as we still had a few kilometres to enjoy ourselves. That means on the Driiveme app we had an estimate of 318km for this trip. However, at AVIS, we were given a safety margin, a total of 390km, which means that we could still go to our Airbnb to drop off our bags without having to use public transport!
Therefore, the next morning, we went to AVIS at Lisbon Airport to hand in the car. It was a full tank already, as it had been delivered to us.
Can you guess what happened next? That's right, we enjoyed the experience so much that we rented a new car to make the trip back to Porto! 🙂
Plan your trip with Driiveme as well and see how easy it can be to rent a cheap car!
Click here to see our video about this adventure between Porto and Lisbon!
Also check here the challenge we set out to next!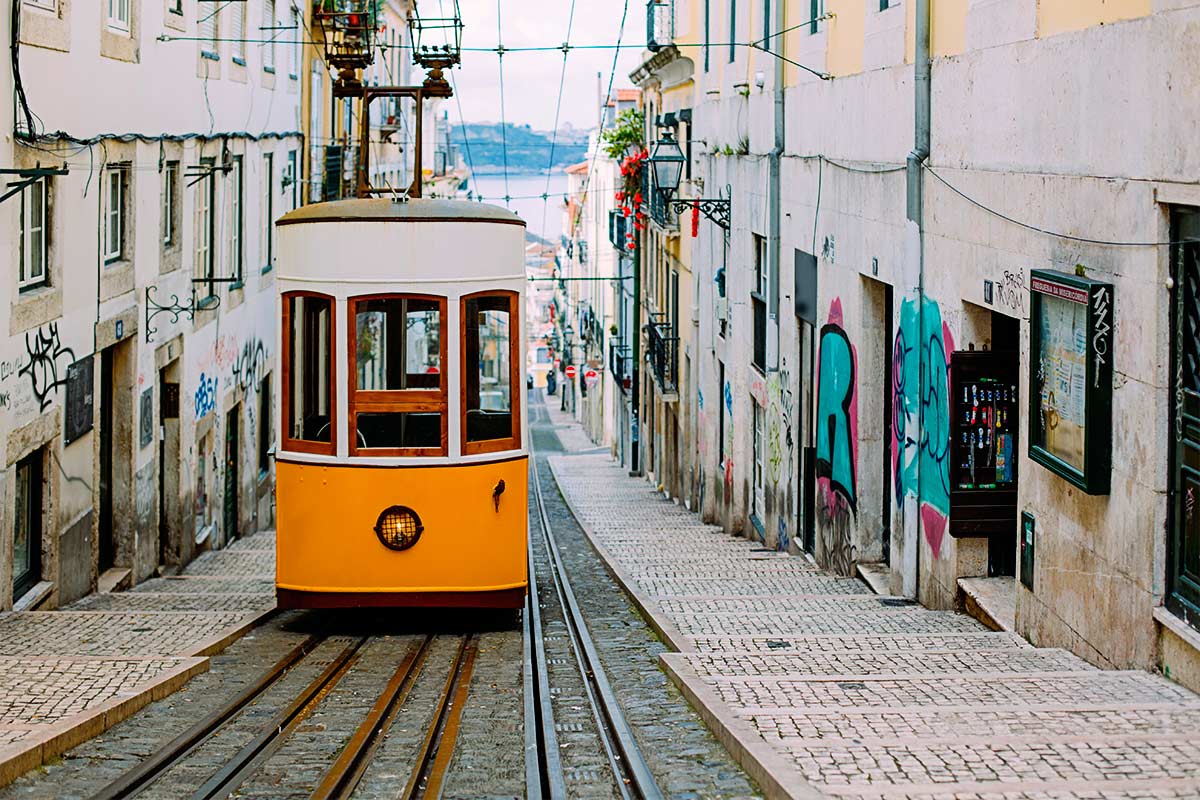 Kisses, hugs and licks
Sara, Pedro and RAFITA 🐶
Useful links:
Currency converter
Driiveme
AVIS