Holidays in Finland: Helsinki, a pet-friendly city
We came to visit Helsinki, the capital of Finland, a country that is far ahead on many things. There, you can't smell pollution and incredibly, you can hear the sound of silence in some of the busiest neighborhoods!
What about pets, is it pet friendly? Rafa and we came to find out! Come and read this article to understand if Helsinki is a great city to visit with your buddy!
The first choice was not the best
We got in our hotel still shivering cold but soon we felt embraced by that warm building. We stayed at Hotel Fabian for these days. It's a modern space in elegant decor, right there near the City Market Square. We chose this hotel, not because it is a four-star one, but above all, because it is in a good location and allows pets, which also pleased our Rafa!
After check-in was done, we prepared psychologically ourselves for the 3 degrees outside and went out to discover some of the Helsinki pet-friendly spots.
We first stopped at the Old Market, the old Municipal Market of Helsinki. It has been open since 1889 and has had some refurbishments since then. Also has been converted into a space with several restaurants and cafes, great to enjoy during the city's severe winter. But everything was perfect if it was a pet-friendly place.
Unfortunately, it wasn't. The Old Market did not allow pets, so our first stop in Finland was not positive. But Pedro still took the opportunity to go inside alone and take some pictures!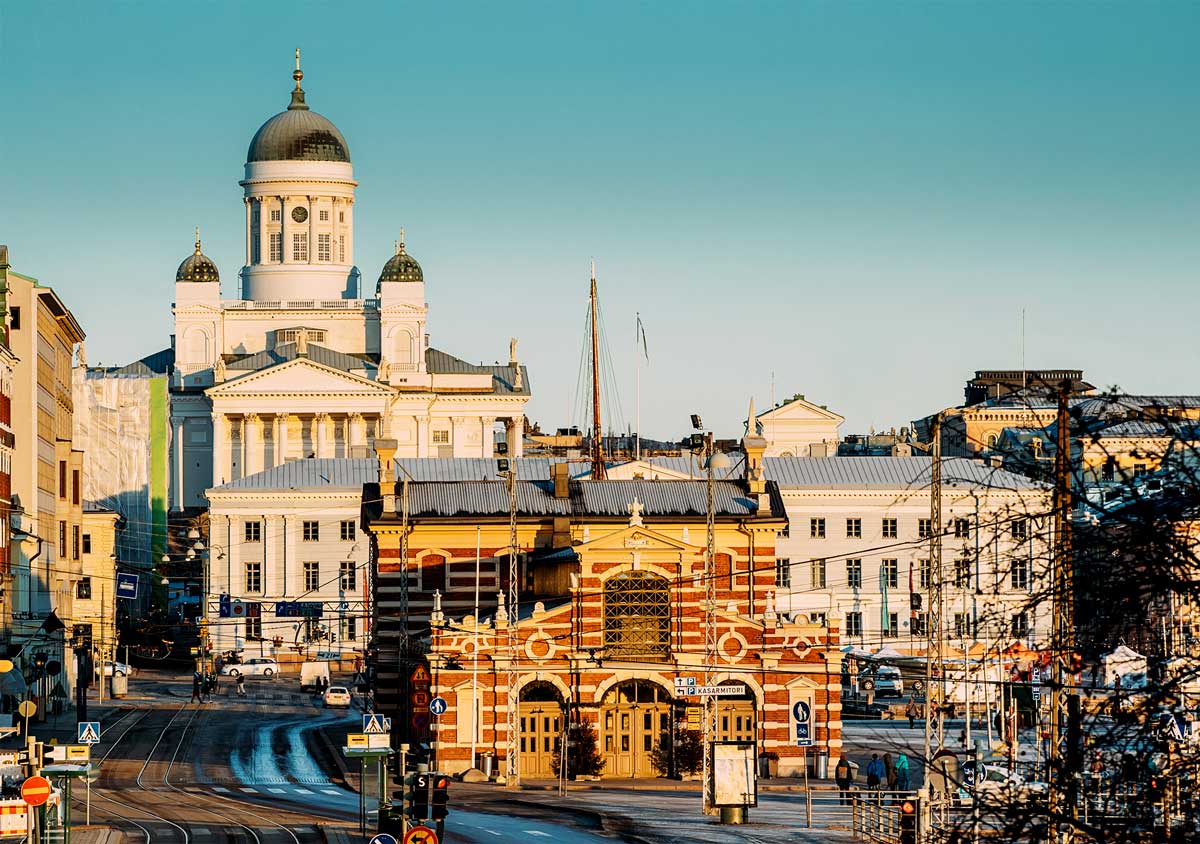 Foggy view from up there
We could not come to this beautiful city and not have a privileged view, could we? Then we went to the big wheel!
SkyWheel Helsinki is 40 meters high and is right in the centre of Helsinki! It is not cheap, it's true. It was €13/person, but according to this country cost of living and the amenities of this structure, it was well worth it! In addition to the heated cabins, one of them is, guess what… a sauna! We must admit that the fact of being a pet-friendly attraction also grew on our consideration…and Rafa's, of course! 🙂
The view turned out not to be stunning as it was foggy. But on all our travels in Europe we come across rain and clouds, this one could not be the exception. We're getting used to it! 🙂
Anyway, we recommend this little bit up there, if only to get a better idea of Helsinki's dimension!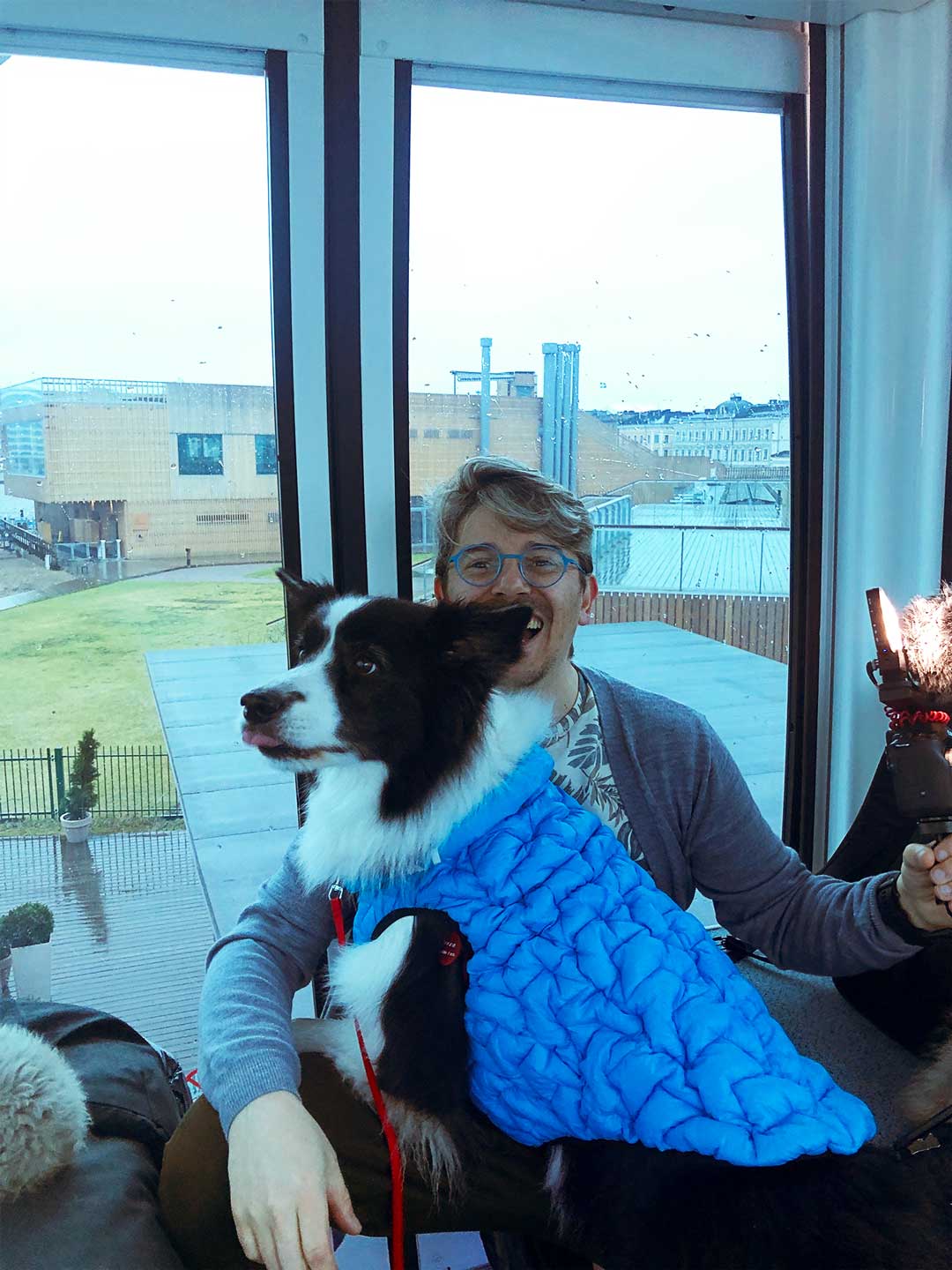 Rafa goes shopping in Helsinki city
Our Scandinavian travels always pass by Joe & The Juice: their delicious natural juices and sandwiches are mouth-wateringly delicious, even for the least hungry ones. So you can imagine us, two starving creatures after a long walk!
This Joe & The Juice is within Stockmann, a chain of shopping centres (similar to El Corte Inglès) and it is spread across countries like Finland, Estonia, Latvia and Russia.
Yes, our Rafa also had the opportunity to get in the cafe with us and to walk around the mall without any problem. He wasn't the only dog there!
After calmly enjoying our snacks, we were more comfortable taking a stroll around the shops. We took a short time, as we decided to go to other parts of the city by public transport before sunset. Yes, in Helsinki, night falls at around 4 pm! And once again, public transports allow pets inside.
The visit to the previous mall was not enough for us, so we decided to enter another one – FORUM – this one was smaller, but with well-known stores. Here, not only are pets welcomed, H&M specifically has a wide range of dog clothes!
We guess you can imagine, can't you? Of course, Rafita had a personal stylist, Sara, to pick his next outfit! What a lucky dog! 🙂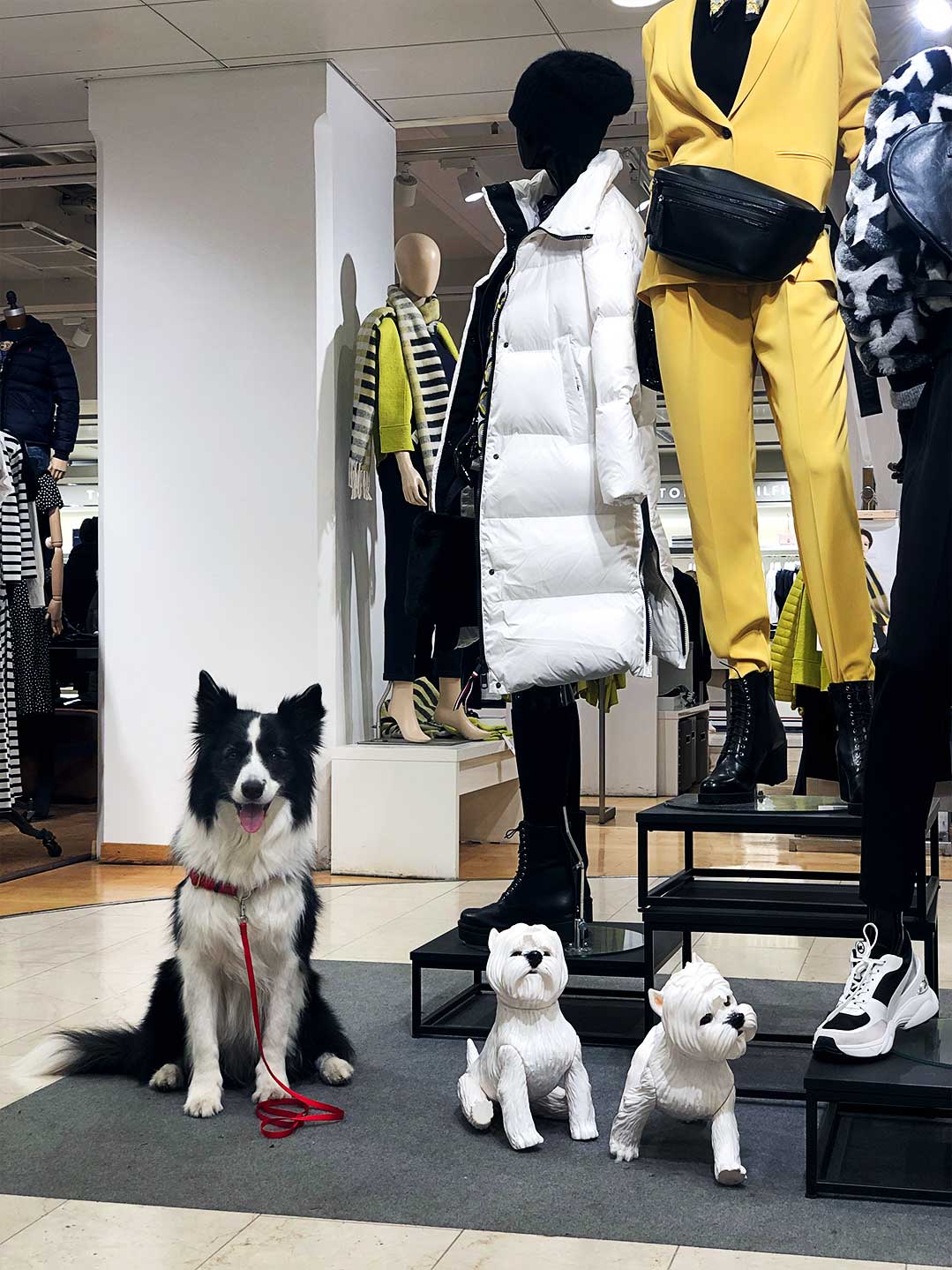 The key test
Our last stop to prove that Helsinki is a pet-friendly city was the supermarket! Those who have dogs understand how good and relaxing it is to be able to live our normal life with our dog without restrictions, so we "risked" to get into the ALEPA supermarket, inside FORUM, not as a provocation, but as an attempt to do our own thing normally.
And that was the most normal situation in the world!
There was no prohibition warning and we found several people with their pets inside the mall. As such, it made sense that they could also enter the supermarket.
Rafa loved the experience; once in a while, he would lie down in the corridors to rest while we picked the groceries. 🙂 To find out more about the prices of supermarket products in Finland, read our article.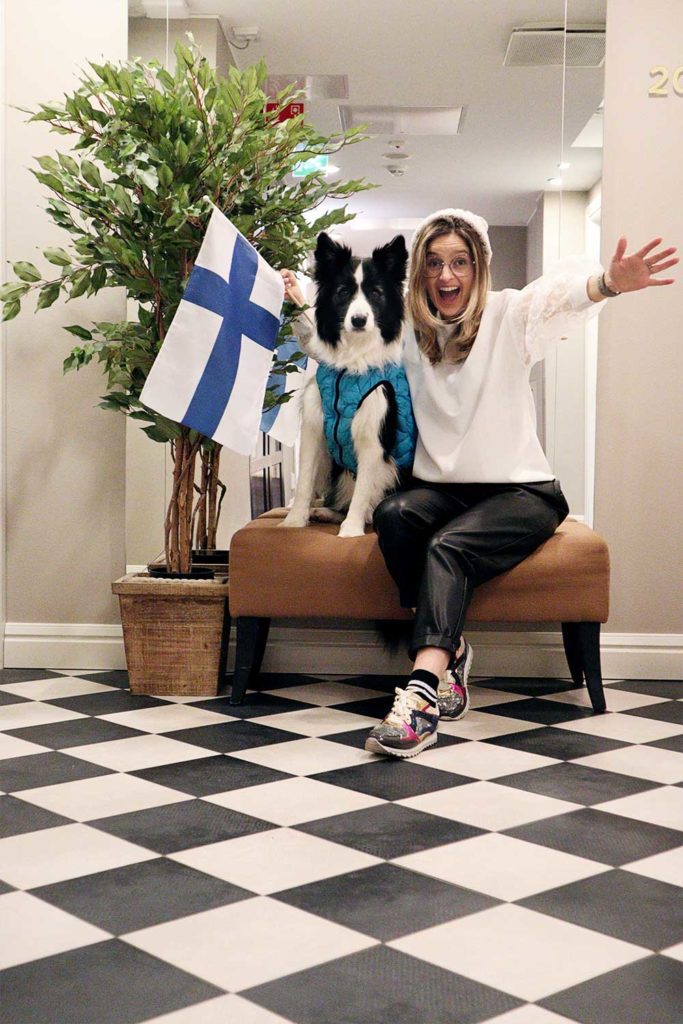 To sum up, the overall balance of this route: Helsinki is approved by us, but mainly by Rafa! It's the most animal-friendly city we've been to!
Here you can watch the video we made about this pet-friendly script!
See you in the next article!
Kisses, hugs and licks
Sara, Pedro and RAFITA 🐶