No wallet for a day: a tough challenge in Lisbon
What if you had to leave your wallet at home for a day?
We came to Lisbon and took on the challenge of using the cashless payment method only…by using our smartphones! Do you think we overcame it? Read this article to know the outcome!
First steps completed!
We already realized that new technologies were here to stay! But is the Portuguese capital city prepared to keep up with it? We came to test it and started our "cashless payment challenge" at Lisbon Airport.
The first step was simple; to call an Uber. Before the trip, it was necessary to inform the driver that Rafa was with us and that he was our support dog. The payment was made by Paypal and everything went without restrictions. So we continued our journey through the streets of Lisbon with Nuno, our Uber driver and very kind as well!
The end of that tour was in Praça da Alegria, very close to Marquês de Pombal where we met our friends Nuzito and Tietchan from O Miradouro channel for a breakfast free from cash and cards. If you're wondering if we made it, the answer is YES! 🙂 We used our Revolut, of course!
"Love" at first sight
Do you know when you look at something once and think "I have to test it!"? Yes, this happened to Pedro…with an electric scooter! While we were enjoying our toasts on a terrace, someone passed us on a scooter and Pedro decided to install the app to be able to ride it too!
Unfortunately, because some settings are not currently allowed by the app, it was not possible to use it, but as Pedro is a lucky man, he almost "stumbled" on another electric scooter whose application allowed him to take a mini ride.
Bird is a company that provides electric scooter rental/sharing services so that you can make your tour of the city at a low budget (about €0.15 per minute).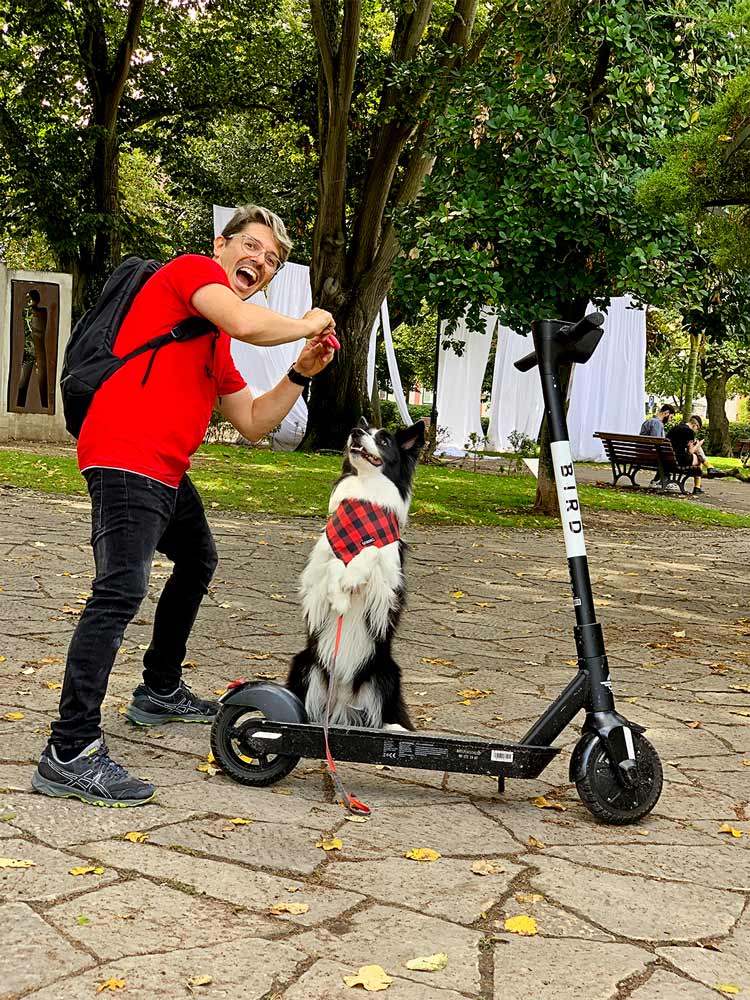 Museums that are not much "cashless payment friendly"
We decided on a very cultural morning and, for that there's nothing better than visiting a museum! This time, we chose the Museu da Água (The Water Museum) and, we must admit it was not the best choice ever. This museum does not accept the cashless payment method, only money to pay for the tickets. There we had to go get our wallet, which was kept in our friends' suitcases. Okay, this time they won. However, this visit was well worth it, to learn a little more about the history of water supply to the city!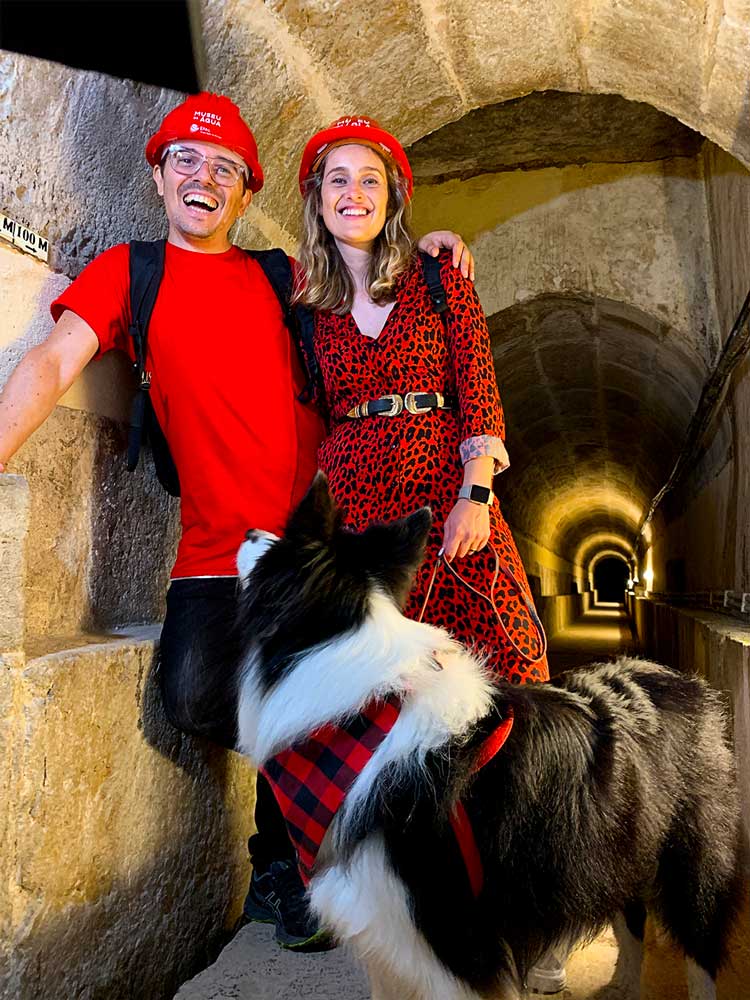 Before lunch, there was still another stroll!
Strolling around is very good, but this visit to the museum left us starving. As such, we decided that we were going to the restaurant by renting a car through DriveNow (which no longer exists in Portugal but was very useful at the time!)!
We entered the app and immediately there were several cars parked nearby. We chose and headed for it. This journey of approximately 14 minutes cost us 0.29€ per minute and took us from Avenida da Liberdade to Campo de Ourique. After unlocking the car and inserting the unlock code inside it to start the journey, we went off to that much-desired lunch!
After delighting ourselves with some great snails at Com Tradições, came the hardest part: the bill. 🙂 There it was also not possible to pay with a contactless system. Do you still remember what the alternative was? Yes, to withdraw cash with a smartphone! Then Pedro went to the nearest ATM, already with the code launched by the MB WAY app. All we had to do was enter the numbers. In a few seconds, he had the money in his hands. 🙂
Last stop, last cashless payment
Before returning home, we had to go back to our accommodation in Praça da Alegria to pick up our bags and be able to head to the airport. No, we wouldn't go by plane to Porto (unfortunately), but we had already booked a car with DriiveMe for the return trip. If you don't know this app, then you have to watch our video about how we rented a car to come to Lisbon for just 1 euro!
No money or any app was needed for payments until Praça da Alegria. We just needed to hit the road and walk for about half an hour. As soon as we took the bags, we asked for a taxi through MyTaxi app (now called Free Now) to go to Lisbon Airport. Once again, it was ok for Rafa to join that trip. The payment for it was, of course, made through a smartphone!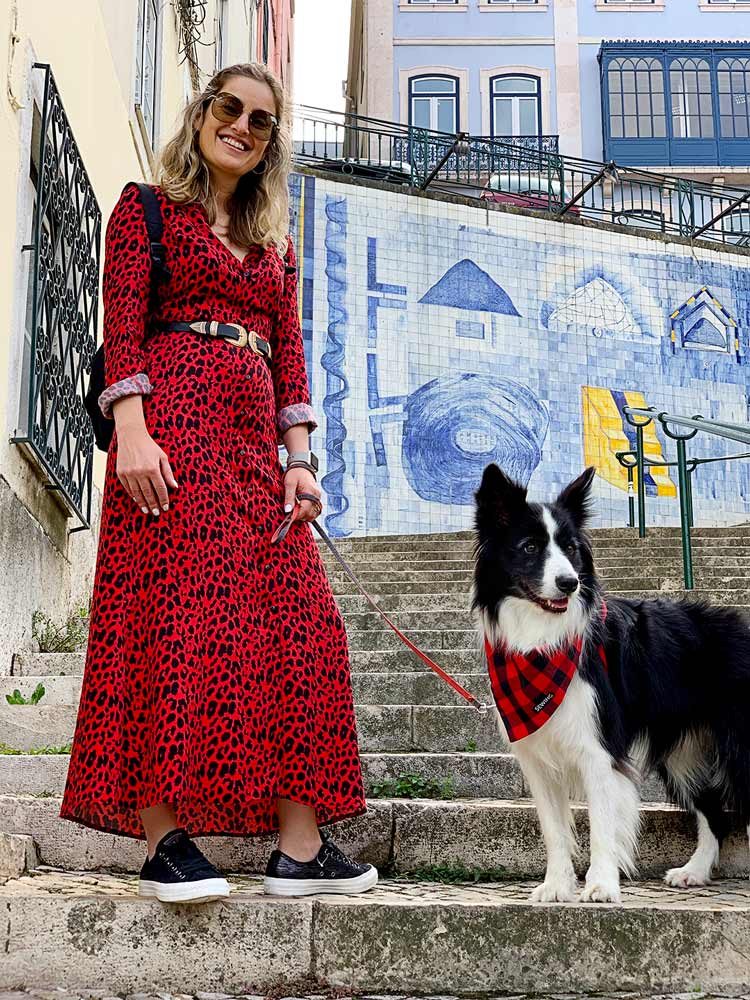 Great outcome on the cashless payment method!
Indeed, some places and attractions in Lisbon are not yet ready for this new way of living, with the cashless payment system. However, we believe it will all be a matter of time!
Even our friend Nuzito, who was a little sceptical about this cashless payment challenge, agreed with us. In fact, the wallet starts to be an extra weight in our suitcase and payments with no money are definitely more practical!
See you later, Lisbon!
Watch the video we made on this very challenging day and let yourself be inspired by our cashless payment journey!
Apps used for this challenge:
Kisses, hugs and licks!
Sara, Pedro and RAFITA 🐶