Slovenia wonders: a "fairy" tour on Lake Bled
It's one of those places we think exists only in movies or even, who knows, in our childhood dreams. A lake of crystalline waters, surrounded by fresh and green landscapes, which, together, show us a "to-die-for" beauty!
In between, there's a small lively island, in a place of beliefs and promises. That's right! We went to Lake Bled, in Slovenia and we tell you how this adventure was!
A Magical Place
We always thought it would be impossible to find places like this. Where no filters or special effects are needed. Where reality mixes with imagination and the results are absolutely breathtaking!
That's what happened to us when we visited this place, about 60 kilometres from Ljubljana, the capital of Slovenia.
Starting our road trip through some Eastern European countries, we left Budapest to discover that country. We decided that we couldn't return home without seeing Lake Bled for ourselves and visiting that city. It was built on the small island that gives its name to one of the most beautiful places in the world!
It is 2120 metres long, 1380 metres wide and almost 30 meters deep. At Lake Bled, located in a picturesque area in northwest Slovenia, the waters are mostly blue when seen from afar. As we get closer, blue gives way to an equally beautiful emerald green that invites us to a boat ride.
There are also several beliefs and redeemed promises on the Bled island, where there is a church, built in the 17th century. Several events are celebrated there, namely weddings! The bride must be carried by the groom, while he walks up the 99 steps to the church. Then, they ring the bell together while making a wish. This is part of the ceremony's ritual and it sounds funny! 🙂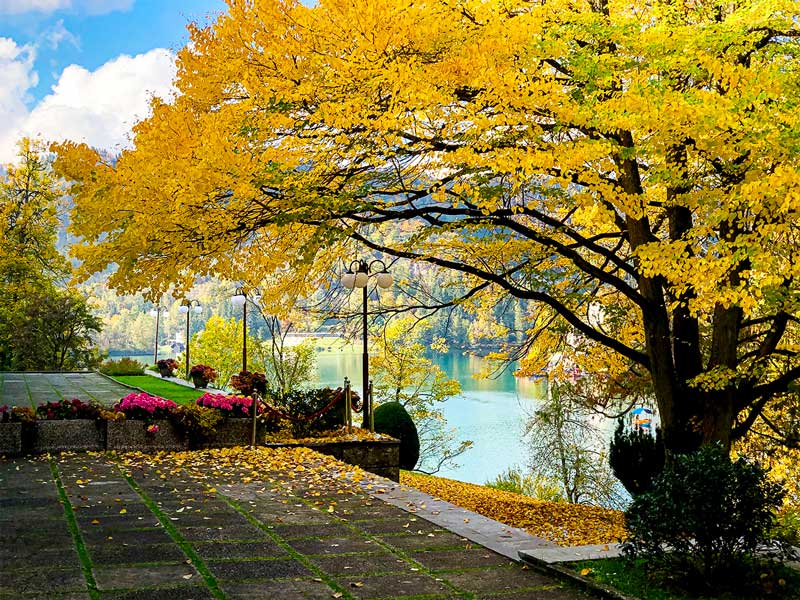 A wet tour can only be a blessed tour!
It was on a rainy day that we visited Lake Bled. The adventure would start with a short walk through nature, to the place where we would rent a boat to stroll around the lake and then dock on the island. However, the rain became heavier and made us change our minds. As such, it was necessary to slightly change the plan. The earth floor turned muddy, which led to some falls along the way and, of course, a lot of dirt!
After the first attempt and completely wet, we went to our accommodation, dried our clothes, rested a little and planned the best way to return. For a few hours, we stayed there, enjoying the rented apartment, right near Lake Bled. With a modern and simple decoration, that tiny house was quite cosy. From the living room window, we could go to the terrace. There was a small garden with tall trees and a view of the Julian Alps mountains. We couldn't enjoy this part (with some regret), as the rain and fog insisted on chasing us almost everywhere! 🙂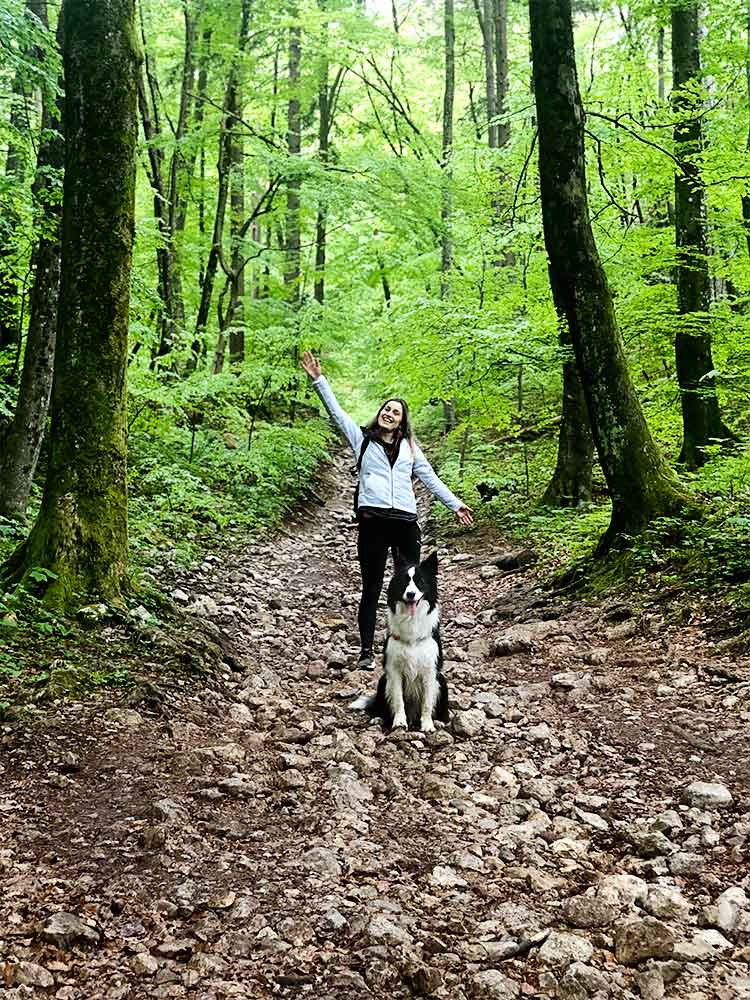 "The return to the blue lake", in Bled
Like a stubborn troupe, we returned to the lake as soon as we had a break from the rain. And then yes, we pushed on going for a ride in the little rowboat as we had planned, although the sky was quite grey and looked quite ugly. Even so, and even with the rain omen that the lady who rented us the little boat gave us, off we went! Actually, we were more adrift than in the right direction. Pedro's rowing skills are not the greatest! 😛
Sometimes we felt a few drops of rain on our heads. As such, while Pedro was rowing, it was impossible not to remember the famous romantic scene from "The Notebook" movie"!
But if the actors were quickly dry and well dressed in the movie, the same would not happen there. We were in the middle of Lake Bled, as far from the car as from the island, with Pedro already tired of paddling and Rafa was eager to dive. We quickly went from romance to comedy and had a, of course, laughed a lot along the way!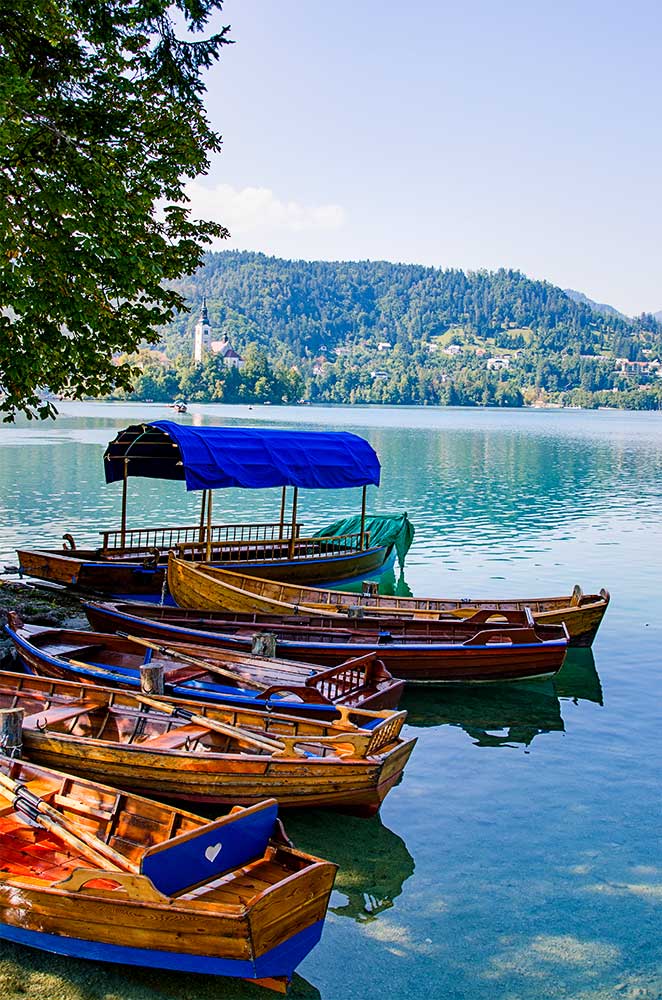 Setting foot on solid ground
When we arrived at the island and while Pedro was catching his breath, Sara was getting ready for a challenge that couldn't be a miss on Bled Island. Like the bride and the groom, she would have to walk up the 99 steps to the church! But since it would be impossible to carry Pedro in her arms, Rafa would be the lucky one this time. Would Sara be able to get up there with both lungs still?
Well, to make everything easier, she could stop twice along the way at most, but… without putting Rafa on the ground, of course! 🙂
Just looking at all those steps, everyone would feel tired. But slowly and with Rafa's cooperation, Sara managed to overcome the challenge. She reached the top of the island by walking up the steps! In the end, she got an amazing view of Bled Castle as a prize, in addition to Pedro's kiss!
The bell was ringing there and we were astonished when we discovered that the sound was part of a ritual, similar to that of the bride and groom. When visiting the island, each person must pull the rope to ring the bell three times. In the meantime, a wish should be made. The ticket to ring the bell, visit the church and the museum was 6 euros per person.
We chose not to visit any of those three places, as we had little time to be there. As such, nature and island forest walks were our top priority. Anyway, we leave you some information below for consideration if you decide to visit this Slovenian attraction.
Useful information to visit the island:
Church/museum/ring the bell tour: 6€/person (adult)
Gondola tour (with driver): 15€/person
Rowboat tour (no driver): 15€/hour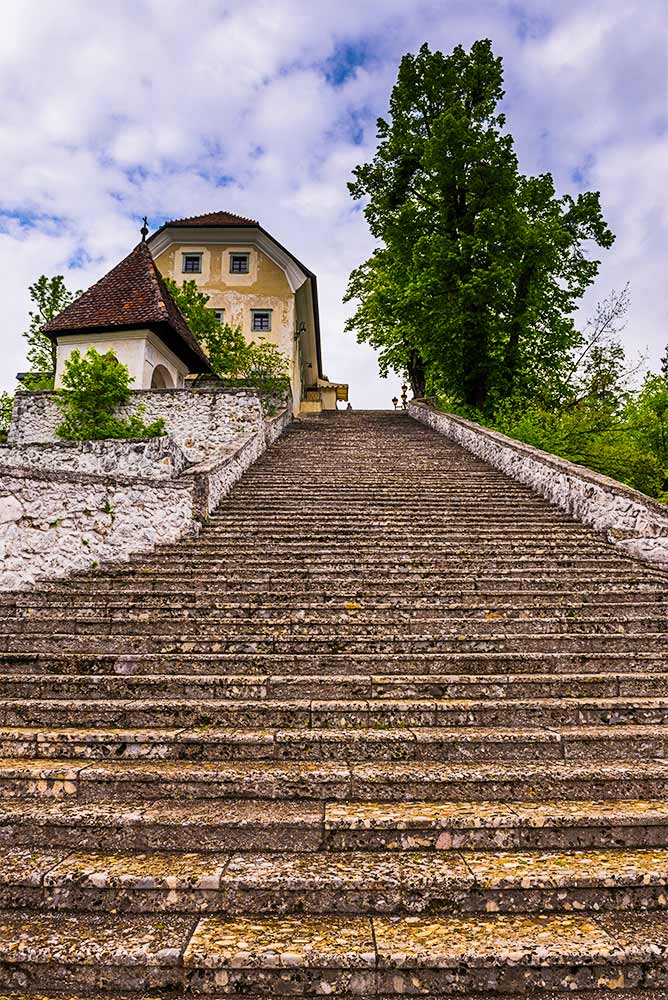 Closing remarks
Organization and amazing nature. These are the words we would use to describe this little piece of land we got to know from Slovenia. A country with well-defined rules, mostly regarding traffic as speed cameras are spread all over the place!
Lake Bled particularly reminded us a lot of the Tyrol area in Austria, where green landscapes also prevail. However, Lake Garda, in Italy, also didn't leave our minds during this whole tour. So we want to believe that Bled was the perfect result of a merge between these two places! 🙂
Thus, as it's a fairly recent country (independent only since 1991), we confess we were somewhat surprised by its organization and tourism orientation, at least regarding Bled. Therefore, just in case, we hope to return soon to see more of these beautiful places around the country!
Check here our video on Lake Bled!
Kisses, hugs and licks
Sara, Pedro and RAFITA 🐶