Between the sea and the mountains: Kotor, the pearl of Montenegro
It was in a rare beauty place that we "docked our boat" again, during our road trip through Eastern Europe. And take a great look at what we came to discover! In Montenegro, between the imposing rugged mountains, nestled in the middle of the Adriatic coast, Kotor was waiting for us. A fortified city around a blue bay. A perfect mirror to a magical fairy tale landscape!
But we discovered even more enchanted places around there.
Read our article and get to know it!
After a long journey from Bosnia-Herzegovina, it was late at night that we arrived in Kotor. A narrow and winding road that almost seemed endless. But, along the way, it offered views that seemed like paintings!
The light faded at nightfall and the last 100 kilometres of the trip were timed by the sound of pouring rain hitting the car windows. When in Kotor, the bay was barely visible.
We left the car sprinting and got in the apartment we had booked, put down our bags and dove into a more than deserved sleep!
First impressions
The next day was finally "the" day! The day that we had fully booked our route to get to know Kotor and all its corners with our own eyes, after we've already gotten to know them through blogs, from top to bottom!
We woke up very early to start our walk through the city and its mountains and, unlike the previous night, it was a warm sun that invited us for a good walk. But first of all, we had a great breakfast…after all, we were going to walk up 1555 steps!
It would be a tiring morning, but we have to say that everything we were seeing did not discourage our desire to go further, to get to know another little piece of that land of such friendly and helpful people!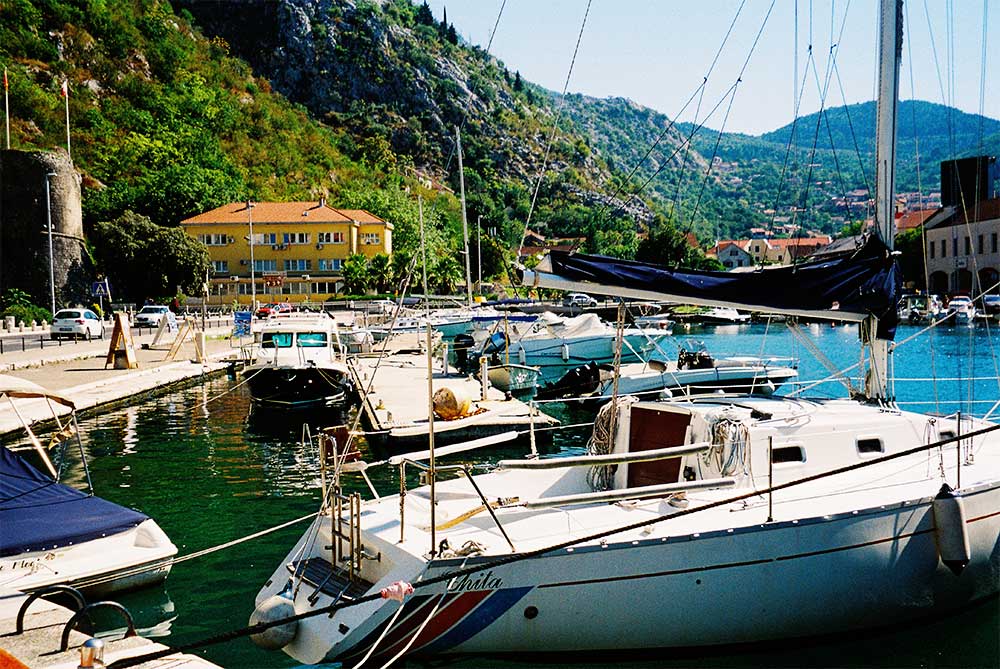 A "non-stop walking" morning in Kotor
After a coffee by Kotor marina, off we went, always walking up to the fort! But after all, where was the fort?
Well, we made a mistake when selecting the route on Google Maps and it was a surprise when we discovered it…after walking for a considerable amount of time! Well, it was not that much blunder, because if "God works in mysterious ways", surely he wasn't wrong. We were amazed by the route we took! As we walked up the mountain, the view became more and more beautiful and the fresh air and the smell of nature were priceless!
Let's admit that we were quite tired, but we assure you that every small step was worth it, among those cliffs covered by very green and fresh vegetation!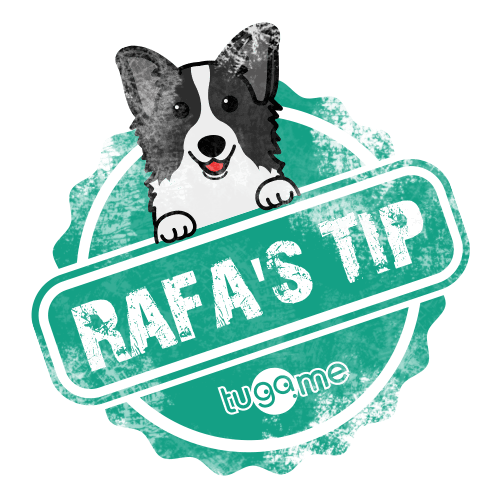 If you have vertigo or poor balance, we might not advise you to take this hike that includes climbing rocks and walls. The valley abyss can scare the most sensitive people! But we cross our fingers for you to be brave enough and be able to enjoy the view from up there!
There were several granite ruins that we found when walking along the hill. Including a small chapel that served as a stable for a donkey!
Rafa didn't love the idea of losing the spotlight for a few minutes! 🙂
The wastelands were still divided by rugged stone walls and some parts of the paved floor allowed us to imagine ancient times and other people. Yes, Montenegro was heavily populated by Phoenicians, Greeks and Romans and belonged to different countries like Austria or even Russia! Nowadays, that piece of land would belong only to peace and the sound of the birds that flew over the hill.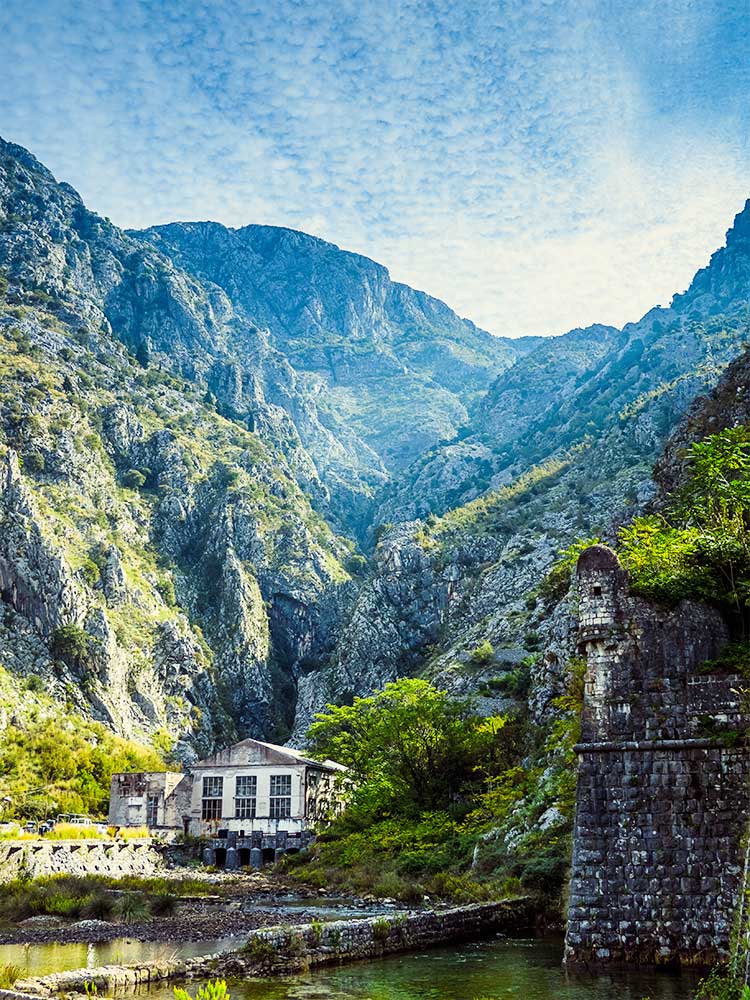 Heading up the hill
We found small signs along the way that we came to conclude that were similar to those used in Portugal to mark pedestrian routes, the so-called PR's or GR's (small or big routes). To learn more about these same signs on the trails in Portugal, click here.
We didn't walk up all the 1555 steps, as we took another route and discovered the staircase halfway through. However, it was worth the long walk and the effort to find the right route!
Upon reaching the top, we felt almost able to touch those grey clouds that roamed the sky with our own hands! When looking down, the Bay of Boka seemed to be with arms wide open, waiting for our dive. From there we could see the huge cruise ships that arrived and departed! From a distance, it seemed so much smaller!
After enjoying the view from up there, we took the opposite route to go down to the bay again. And we arrived at a good time, just in time for lunch, as we were starving.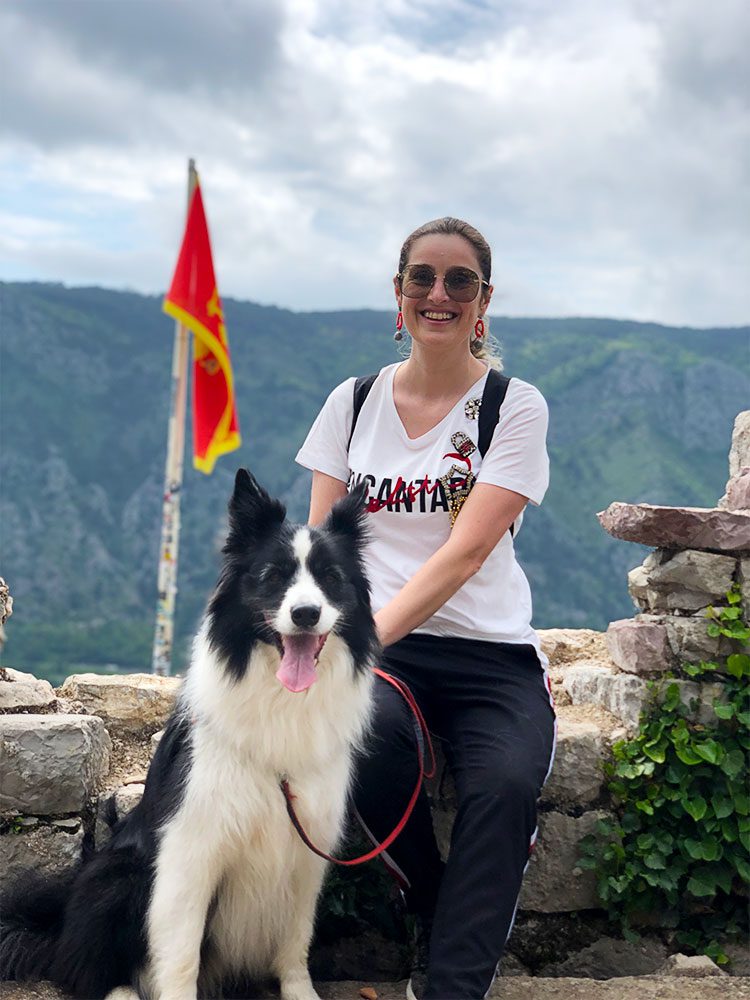 So, we stopped at the first restaurant we found, Caffe del Mare, an Italian restaurant where we enjoyed their amazing pasta! Close by, there was a Polish couple having lunch as well. Once they're interacting with Rafa from time to time, we started to talk and came to find out that they also had a Border Collie dog and all this led to a very interesting conversation during the meal. They were getting ready to start a triathlon race in Kotor in a few hours and were a little anxious. But we want to believe that that relaxed conversation helped them relax and did a successful race!
Kotor by our eyes
We can define Kotor in just one word: magic! It's a small town that certainly invites you to spend much more than a one-day stay, where you can enjoy the clear blue waters of that bay or even the pure mountain air! It is a sophisticated and peaceful place, where people seem happy and smile at the slightest glance, which warmed our hearts.
We promise to come back and, next time, with more time to spread more smiles to all those people!
Check here out our short stay in Kotor, Montenegro!
Kisses, hugs and licks
Sara, Pedro and RAFITA 🐶
Suggestions: