Game of Thrones tour in Croatia:
In search of the series filming sets
The Game of Thrones series is Pedro's "guilty pleasure".
Croatia is the country we always wanted to visit for an endless list of reasons!
Going to Croatia and not visiting the scenarios of the series that got Pedro stuck to TV for years, would be like missing the main event, right?
We went to meet some of the Game of Thrones shooting places in two of the most touristy and well-known cities in Croatia. We'll tell you everything about it in this article!
Are you a GOT fan as well? Then this article is for you!
If not, then you heard of it for sure. Based on the book series A Song of Ice and Fire by George R. R. Martin, this eight-season American series has already been considered the best television series of the 21st century!
The "fever" started in 2016 and, since then, there were several recording stages (wasn't it one of the most expensive series ever!). United States, Canada, Iceland, Malta, Morocco, Spain, Northern Ireland, Scotland and…Croatia.
So, naturally, during our road trip through some Eastern European countries, we decided to go along the Croatian coast, stop in Split and Dubrovnik to see some of these mythical scenarios. But… does the reality live up to fiction?
Arriving in Split
We managed to rent an Airbnb in Split's historic centre, the second biggest city in Croatia. A very touristy place (not to say that it was one of the most touristy places we have visited so far!) where buses arrived constantly to leave people. Perhaps they were as curious as we were about that place.
Despite being small, our apartment turned out to be a real find, considering the prices charged there, not only in accommodation but also in restaurants, shops and cafes. So, it felt even better to enjoy that tiny place just for ourselves; modern, minimalist and practical decor, as we usually prefer on these occasions.
Chased by rain for a change, we arrived in the city and had dinner at Pizzaria Boka Morra, suggested by the reviews as "the best pizzeria in Split, Croatia". And when we tasted those high-crust pizzas, we believed it's true! They were delicious! 🙂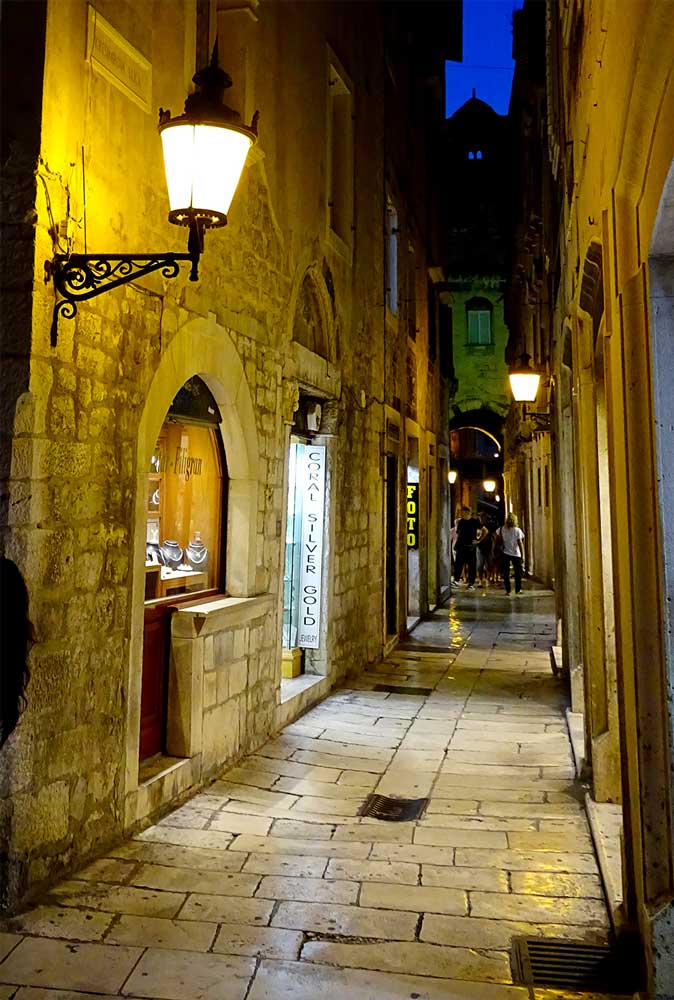 Start of the tour: discovering "Meereen" from GOT
We took advantage of a couple of hours with no rain to start discovering Split and the secrets of Game of Thrones yet to be shown in Croatia! We got in the car and drove about 15 kilometres uphill to the famous Klis Fortress, between the mountains of Mosor and Kozjak. Using our imagination, we could see dragons overflying the place, or even ex-slaves wandering around there. This fortress is best known in the series as Meereen, the Slaver's Bay.
Indeed, we didn't find any fantasy around there, but we noticed the production's choice of that place as a shooting stage. The view over Split and the Adriatic Sea is amazing!
At the end of the visit, we felt like a child discovering that Santa Claus does not exist. What a disappointment!
Not for the superb landscapes! And, just for that, it was well worth the walk up there. But maybe because of the rainy weather, the maintenance works or the lack of special effects, the magic was not the same. Well, we will keep watching Meereen on television, since the charm is different! 🙂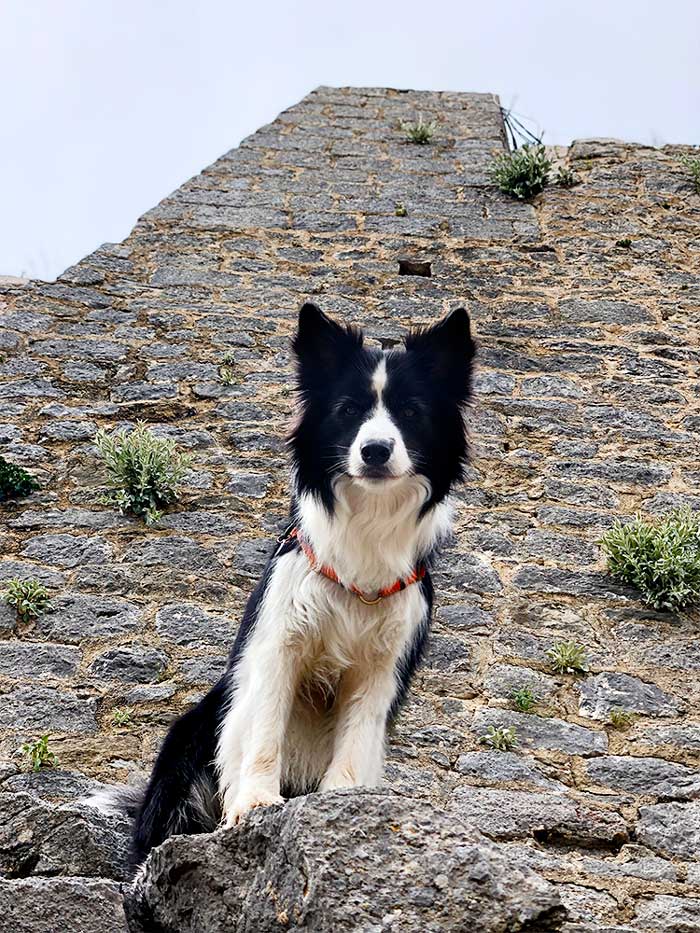 In the catacombs of the palace!
Still in Split, we got to know Diocletian's Palace, a UNESCO's heritage. Such a big palace that looked like a city! From shops to restaurants, cafes or historic buildings, there are several attractions able to make you "lose" a whole day, strolling around the corners of this ancient fortified imperial residence! Its construction dates back to the Roman Empire.
After having a hamburger at Toto's Burger Bar, we headed to another Game of Thrones filming set! It was in one of the galleries of the catacombs below the palace. Daenerys, the character, imprisoned her dragons and there was also her "throne room"!
We were ready for another trip to the world of Fantastic if dogs were not prohibited from entering one of the galleries. So we went for a walk in the main gallery, where there were several souvenir selling counters!
We ended our tour in Split with a walk through Republic Square, "Prokurative", where the various terraces were surrounded by a large building in shades of red and beautiful arcades.
Finally, we walked along Riva, Split's famous coastal avenue, where the Seaview made us forget where we were for a moment: the busiest boulevard in the city!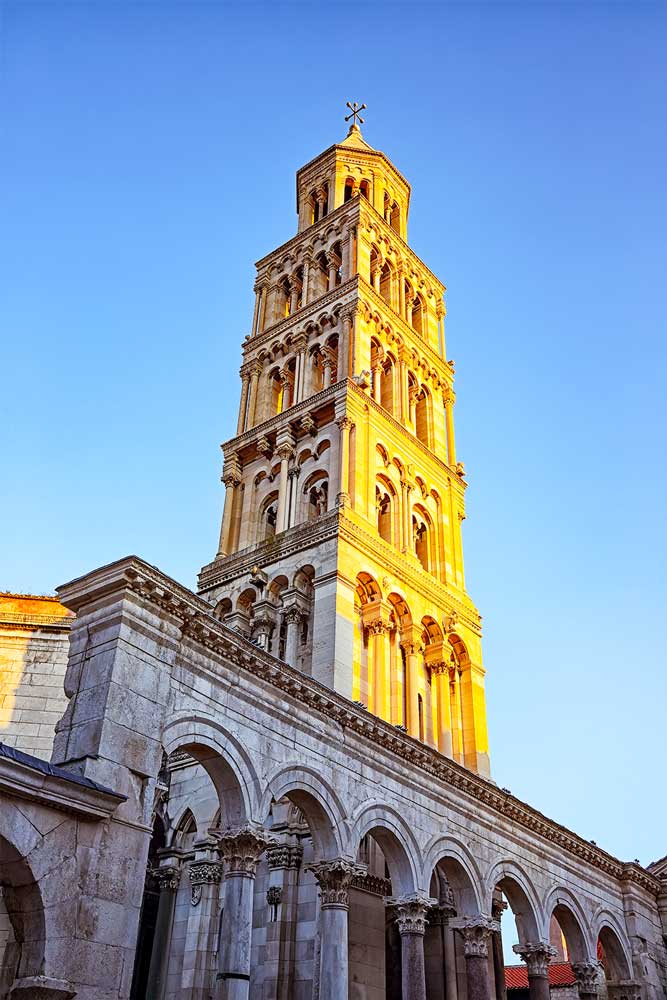 Dubrovnik, the "Pearl of the Adriatic",…or King's Landing?
After passing through Omiš for a radical zipline adventure and a quick visit to the only beach in Bosnia-Herzegovina, we went back to Croatian lands. This time in Dubrovnik, a very touristy (and also expensive!) city where we found much more tourists than in Split. Would it be for the well-known filming scenarios of the series? We don't know, but we were sure that the prices are not very nice!
We chose to stay in a four-star aparthotel, about 3 kilometres from the attractions we wanted to visit. Once installed, it was time to start the city tour!
Dubrovnik, also known as The Pearl of the Adriatic, has wonderful seascapes as well! Maybe that's why it was chosen as the perfect scenario to shoot some Game of Thrones series' scenes, namely with Sansa and Littlefinger. However, in the series, this beautiful place is called King's Landing, the capital of the Seven Kingdoms, founded by King Aegon Targaryen.
We take that, in a place like this, where we have to cross a wooden drawbridge to enter Pile Bay, it is impossible not to go back in time and to mix up fiction and reality for a moment.
The charming old town
Despite the rain, we went up to the Fort Lovrijenac, better known in the series as Red Keep, where, once again, the Seaview is superb. We tried hard to escape the tourist crowds, who were curious to discover all the corners, stairs and walls of that place like we were. But it was an almost impossible task, as it is a very touristy area for obvious reasons. At any moment, we expected to see Tyrion, Cersei, or even Daenerys walking around with her dragons! But without any luck, they were not there.
In the streets of Dubrovnik once again, namely the famous St. Dominic Street, we found only narrow walled streets, shops, restaurants… and many tourists all over the place.
Like Cersei, we made a point of going down the Jesuit Staircase – the stairs of the Sept of Baelor, from where the character begins a naked walk towards the Red Keep, as a punishment for her sins. But we didn't venture to take off our coats, as rain gave us almost no break! 🙂
In the early afternoon and despite the excitement, we were already feeling tired and hungry. So we decided to have lunch at the Steak House Zupaho, where we enjoyed some great steaks with salad and country potatoes. But the bill was not that nice. We paid €66.72 for two people, which we think was too much, regarding quantity and quality. But seeing the glass half-full, we were ready for a few more walks around that city in Croatia! 🙂
After strolling around the oldest (and most iconic) part of the city, we found a place with few tourists, where we managed to catch great shooting for our video. Watch the final result here!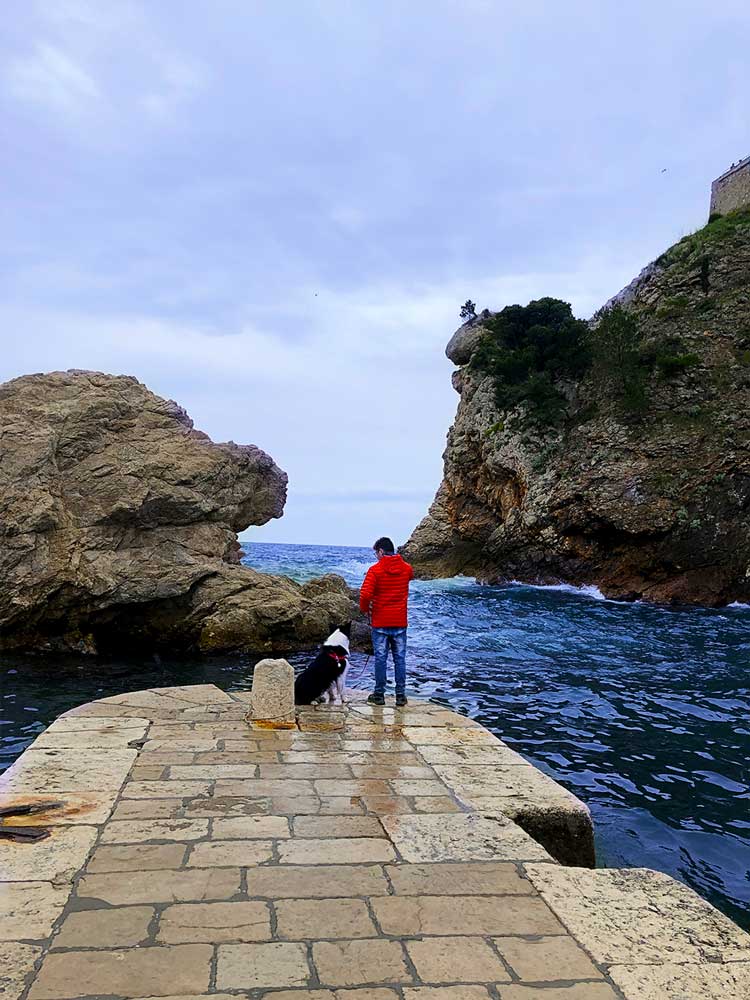 End of route
We loved these tour we created to visit each shooting stage of this series of which we are (Pedro, actually!) fans since the beginning! Although Split and Dubrovnik are the most expensive cities in Croatia, it is well worth the investment, at least once in your life…mostly if you are a GOT fan! If not, you will be amazed by the landscapes and views of the Adriatic Sea!
Kisses, hugs and licks
Sara, Pedro and RAFITA 🐶
Useful information for a GOT tour in Croatia:
Klis Fortress
Fort Lovrijenac

Opening hours: 8am to 7h30pm